This relationship between the Taurus man and the Scorpio woman would be much compatible when compared to the other combinations.
This is because the intense energy levels of the Scorpio woman keeps it going come what may. The ambitious Taurus usually dominates the scene.
He is sexual, sensual and an equal for his Scorpio counterpart. She on the other hand takes him places on a more emotional sense.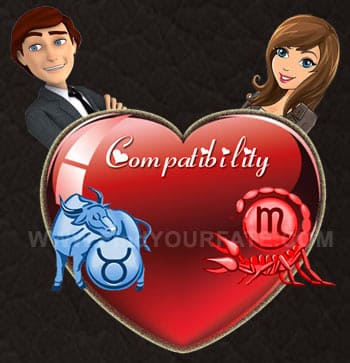 Famous Taurus-Scorpio Couples
• Al Pacino and Beverly D'Angelo

• Lawrence Olivier and Vivien Leigh

• Emilio Estevez and Demi Moore

Compatibility for Romance
This pair of the Taurus man and the Scorpio woman are not much noted for romance. The relationship is more intense than the word romance. There would be an intense passion and lust homing here. Both are committed to each other and endure life together.
Compatibility for Friendship
A Taurus male and a Scorpio female make good friends, if not good partners in work. Both being committed to task, they are known to accomplish great tasks together. There would be loyalty, mutual trust and bond that would take them together in the boat of friendship for life.
Compatibility for Marriage
The Taurus man and the Scorpio woman make a compatible pair in marriage. They are faithful, take life seriously, loyal and dedicated to each other. Each needs the push from the other to keep going. There would be initial hiccups but the relationship gets refined with time and test. There would be occasional rifts but then it would not be the end. If both of them share a transparency in the relationship then home would be just heaven for this pair.
Compatibility for Sex
This is one the sexiest duo among the zodiacs. The Scorpio makes it more intense with her constant seduction and temptations and secretive moves. The Taurus man is generally under the harness of his fair lady when it comes to sex. He needs to satisfy her materialistically when she satisfies her with his libido.
The End game
The couple is one who take relationship too seriously in life that when they call it off then all hell would break lose. Each one wants to pay back the other with all sorts of revenge. The calling off of the game would be more intense with excesses of all kind. It would be the family members and the children who suffer the most when this duo call it splits.
www.findyourfate.com Rating 9/10
Cancer Leo Virgo Libra Scorpio Sagittarius Capricorn Aquarius Pisces Aries Gemini