This combination of an Aries woman and a Gemini Man is a high energy relationship. Both have mutual interests and hence life would be better. Gemini gives the Aries woman her much needed freedom and individuality. Also she does not forget to pay rapt attention to the Gemini as well. But the Aries woman needs to keep her sensuous nature under the wraps for the relationship to go on smoothly. The Aries woman and the Gemini man have different approach towards love, sex, marriage and relationships which might cause occasional hindrances.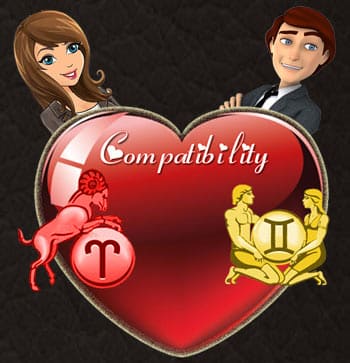 Famous Aries-Gemini Couple
• Mary Pickford and Douglas Fairbanks
Compatibility for Romance
A good amount of romance would be available in this combination but the Aries female should understand that she should keep things light and cool. Much fun-fare and fire-works could be found in this duo. The Gemini man is more bent on his appearances and the Aries woman is keen on her freedom that sometimes romance takes the backstage here.
Compatibility for Friendship
These twosome make good friends for life. They have interests in mutual topics and hence there would be lot of fun when they are together. They have a true companionship and just laugh about anything under the skies. There would be no scope for possessiveness and other issues that might mar the relationship.
Compatibility for Marriage
the Gemini man is not much interested in settling down to a committed marriage. But the Aries woman can bring him down and gear him for marriage. She also brings in him the responsibility of marriage and domestic happiness.
Compatibility for Sex
Bringing the Gemini man to the bed would be a humongous task for the Aries female. He would be excited only when there is much dirty talk involved. Aries female is very sensuous and would be broken down by the mechanical approach of the Gemini man. He is not generally in for much sexuality or sensuous touches but is more keen on watching porn, sharing dirty pictures and the like.
The End game
If the relationship has to break then the Aries female has to take the first step. The Gemini man would be too detached to sense that things have gone awry for quite sometime among them. There would not be any emotions and feelings are involved. But both are resilient enough to stem any mismatch.
www.findyourfate.com Rating 5/10
Cancer Leo Virgo Libra Scorpio Sagittarius Capricorn Aquarius Pisces Taurus Gemini