It would be interfering with your health this period. After the transit, Saturn would influence your finances, it would be restricted and you might feel constrained with your resources.
Coming to the outer planets, Uranus travels through the 4th house of Taurus all this year. Neptune would be traversing your 2nd house of Pisces and Pluto would be in the 12th house of Capricorn during the start of the year. Then it would be moving over to your Ascendant house in May-June of 2023. These planetary movements across the zodiac sky would be influencing your life here on planet earth. Read on for more on how this would affect the various facets of Aquarius' life.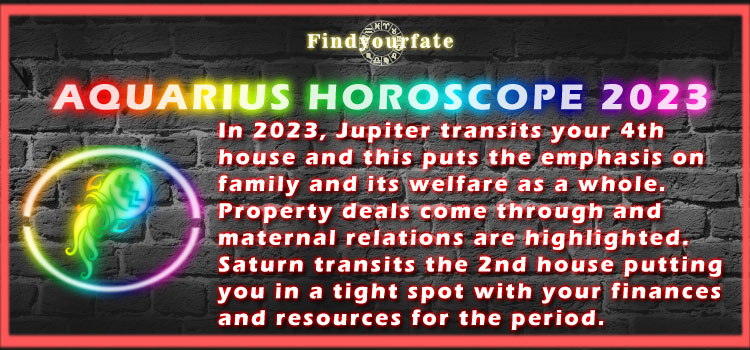 • This would be a year of great experiences and expectations for Aquarians.
• During the start of the year, you might face multiple challenges, but then you would be armed to tackle them.
• Your self-confidence and inner strength would take you to new horizons as the year progresses.
• With the transit of Jupiter through your 4th house of Taurus in May 2023, there would be domestic welfare and happiness.
• Native are likely to face some financial turbulences this year with the transit of Saturn through the 2nd house of Pisces.
• Unwanted expenditure also comes to you from many quarters, you should find ways to reduce the same.
• However there would be series of expansion in the professional and personal fronts as the year moves on.
• Aquarians are in for many surprises through the year, some luck by means of legacy or partner would come for you.
• Welfare and happiness are assured in your relationships with friends and partner for most of year 2023.
• With much effort and commitment from your side, you would remain successful all through the year.
Aquarius Love And Marriage Horoscope 2023
For the year ahead, love and marriage would be favourable for Aquarians thanks to the influence of Venus around. You would be able to make a marked difference in your love or marriage. Stay away from conventional methods, find novel ways to enthral your partner into your fold. You would have the audacity to convince your partner these days. You would be able to spend ample time with your partner in leisure and adventure. You would get the desired freedom as well in your personal space.
Aquarius Career Horoscope 2023
The year ahead would be a very favourable period in years for the career prospects of Aquarians. As the year begins, your 10th house of Scorpio would be getting the aspects of both Jupiter and Saturn and this ensures much progress and development in your career or profession. Through the year, make sure you get the good guidance and advice of elders in the field. Promotions and pay hikes might elude you, but at the end of the year, you would be rewarded amicably for your hard work.
Aquarius Health Horoscope 2023
This would be a year of moderate health for Aquarius people. Saturn placed in your Ascendant house might bring about occasional health issues for the natives. Chronic Aquarius natives ought be very vigilant of their health as it might worsen during the year. Bring about a discipline in your diet, physical works and mental concerns. Find all ways and means to improve your lifestyle in a positive sense.
Aquarius Finance Horoscope 2023
The start of the year promises good finances in the life of Aquarius folks. The placement of Jupiter and its transit in May ensures that there would be a steady inflow of finances for the natives. Gains due to partner or spouse on the cards form some Aquarians too this year. This is not a time to make high value investments though. Certain auspicious functions at home like renovating of house, marriage and child birth in the family would ask for a major chunk of your finances all this year. Have a contingency fund for tackling un-called for medical expenses as well.
Aquarius Education Horoscope 2023
This would be an excellent year in recent times for Aquarius students. They would be very successful in tests and competitive exams that they take. Saturn and Jupiter together would ensure that the students stay successful and motivated all through the year ahead. The second half of the year, is still more favourable the prospects of higher education. Much hard work and effort is called for from the natives, if they need to stand out of the crowd.
Aquarius Family Horoscope 2023
Till May, as Jupiter transits the 3rd house, life would be quite uneventful for Aquarius folks on the domestic front. But with the transit to the 4th house in May, family life would become the focal point. Your plans for home and family would now become a reality. But then you need to sort things out as to what is feasible for the household in the long run. Through the course of the year, you might need to reconcile with family members. Find a good balance between your personal and professional space for the year. Be prepared to handle any financial or medical contingencies that might happen in your family. Take life easier, enjoy good moments with family and reduce the stress and strain out of domestic life.
Aquarius Travel Horoscope 2023
Aquarians would have a favourable year with respect to their travel concerns in 2023. The Moon's node, Rahu posited in the 3rd house of the year would favour many short distant calls for Aquarius people. After the transit of Jupiter and Saturn, that is after the first quarter they would be blessed with long distant travels. Mostly Aquarius natives are likely to travel owing to their professional works and the travels would yield them good gains. Natives are asked to be extra vigilant and careful in their travels as Saturn in their Ascendant house might cause accidents.
Aquarius Buy/Sell Horoscope 2023
This would not be a good year for buying property for Aquarius people. All this year, you would have hindrances and impediments blocking your buying of assets. Even if you ought to buy, then you might need to spend more than the actual cost of the property this year. The second and third quarter of year 2023 are lucky periods to sell property if you intend to do. Some natives might acquire property all of a sudden, which might be an impulsive buy or they might get one owing to legacy or inheritance after the death of an elder in the family.
Aquarius Women Horoscope 2023
Women born under the sun sign of Aquarius would have a very good time in the year 2023. Most of them would be able to make drastic changes in their lifestyle this period. However Aquarius women are advised to curtail their financial spending for stability. They might encounter troubles and hindrances in their career life resulting in financial issues. The last quarter of the year would bless them with their life's ambitions. If they strive hard and be committed, then they would have a smooth sail all this year.
Aquarius Men Horoscope 2023
The year ahead promises to be a year of growth and development for Aquarius Men out there. You need to maintain a good balance between professional and personal space this year to succeed though. Aquarius guys are advised to go in for social and charity works which would improve humanity as a whole apart from your own life as well. The married natives would find goodness in their marital life and this would be a good time to further strengthen the bond with your partner. The single Aquarian Men might find their love relationship in turmoil due to misunderstanding this period. Do not resort to any speculative deals for now, the end of the year might bless you with some luck and fortune. Natives are likely to face some health issues through the period, they are advised not to indulge in food and partying. The first half of the year might have some troubles financially but as the year progresses you would be stable.
Aquarius Spiritual Horoscope 2023
The year would be very favorable for the spiritual deeds of Aquarius people. Your faith and belief in God would be unperturbed by the troubles that you encounter through the year. The aspect of Jupiter on your 9th house after May 2023 would bless you with a pilgrimage that has been long on your mind. This year you would be performing certain rituals or religious ceremonies for thanking the Gods and as a remedial measure too. Offer donations and offering to the poor and the needy when they reach out to you.
Advice For Aquarius in 2023
For the year ahead, Aquarius people are advised to think over their ideals and goals in life and tweak them according to realistic themes. Get rid of anything that annoys you and be pragmatic all these days. Natives are asked to shelf their selfish motives and work towards the betterment of humanity as a whole. Sharing and caring for others would give you peace and goodness in life. But then do not self-neglect, have some me-time and enjoy the good things that life has to offer. This is a good time to learn a new skill, to go on a vacation and get to know your loved ones better.
To watch our videos on all Zodiac Signs:

---
Questions To Ponder
1. Will Aquarius become rich in 2023?
Though there would be good inflow of finances, there would be expenditure of sorts for Aquarius this year that they cannot save much, hence their financial standing would be stable.
2. Is 2023 good for Aquarius women?
Generally a good year for Aquarius females, but for their financial and career prospects.
3. Being an Aquarius, will I be able to marry this year?
If you have a good bonding with your partner, then you are most likely to get married this year.
4. How will be the general health of Aquarius people for the year ahead?
This would be a period of average health for the natives. Saturn placed in the Ascendant house is likely to bring about occasional health issues.
5. Can Aquarius natives get real freedom now?
With the Sun in the sign of Aquarius, you would get the much needed freedom you ever wanted, despite the other planetary positions around.
6. Do the planets support my service to humanity in 2023?
Yes, your service to mankind would be greatly appreciated this period, do focus on uplifting the poor and the needy this year.
---
Astrological services