The very pronounced spiral structure of the Whirlpool Galaxy is believed to be the result of the close interaction between it and its companion galaxy NGC 5195.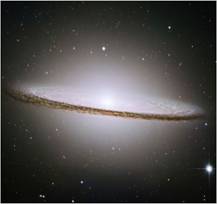 Space is littered with giant clouds of gas. Occasionally, regions within these clouds collapse to form stars. "One of the major questions in the field of study is why do some clouds produce high- and low-mass stars, whilst others form only low-mass stars?" asks Oliver Krause, Max-Planck-Institute für Astronomie, Heidelberg and Steward Observatory, Arizona.
The conditions necessary to form high-mass stars are difficult to deduce because such stellar monsters form far away and are shrouded behind curtains of dust. Only long wavelengths of infrared radiation can escape from these obscuring cocoons and reveal the low temperature dust cores that mark the sites of star formation. This radiation is exactly what ISO's ISOPHOT far-infrared camera has collected.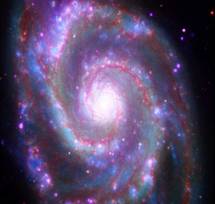 The Whirlpool Galaxy also known as Messier 51a, M51a, or NGC 5194 is an interacting grand-design spiral galaxy located at a distance of approximately 31 million light-years in the constellation Canes Venatici. It is one of the most famous spiral galaxies in the sky.The galaxy and its companion NGC 5195 are easily observed by amateur astronomers, and the two galaxies may even be seen with binoculars.
The Whirlpool Galaxy is also a popular target for professional astronomers, who study it to further understanding of galaxy structure particularly structure associated with the spiral arms and galaxy interactions.Induced spiral structure in the larger galaxy isn't the only effect of the interaction. Significant compression of hydrogen gas occurs that leads to the development of star birth regions. In pictures of M51 these show up as the bright blue 'knots' throughout the spiral arms.
Generally speaking, hydrogen gas is the most common component of the interstellar medium (the vast space between stars and planetary systems in galaxies). It exists primarily in its atomic and molecular form, and forms huge clouds throughout the entire galaxy. When large sources of gravitational pull pass nearby, such as other galaxies, gravitational interactions produce compression (density) waves that sweep through these hydrogen clouds. This causes some regions of the previously diffuse gas to compress into tight pockets of opaque and dense gas; these are dust lanes one so often sees in the spiral arms. In regions where the concentration and density of gas reaches a critical value, further collapse under its own gravitational pull occurs, and stars are born at the center of the collapse, where the gas is compressed so strongly that fusion initiates.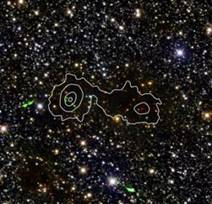 When this happens, these new-born stars gobble up huge amounts of gas causing them to expand, shine even hotter, and finally sweep away the surrounding layers of dust and gas by increasing efflux of the stellar wind.
The gigantic proportions of the clouds out of which they are born means stars seldom, if ever, are created in isolation.
Thus regions of several hot young stars emit sufficient light energy that they can be seen in the high resolution pictures of M51 across millions of light-years distance.
During the ISO mission, which lasted for two and a half years during 1995–98, the spacecraft made around 10 000 slews, providing a web of data across the sky for the previously unexplored window of infrared emission at 170 micrometers. This wavelength is 310 times longer than optical radiation and reveals cold dust down to just 10K (–263° Celsius). A catalogue was produced of the cold sites in the survey.