"Though only people along the narrow path of totality will see the total eclipse, millions more will see some degree of a partial solar eclipse in Asia and the Pacific, including Hawaii, Guam, and parts of Alaska", according to the NASA.
This eclipse is visible in the following regions:
Partial Eclipse: East Asia, Australia, Pacific regions
Total Eclipse: Sumatra, Borneo, Sulawesi, Pacific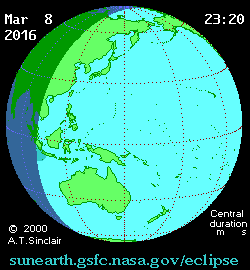 The Astrological Implications:
The New Moon occurs just a day before the moon reaches its perigee position, that is its closest point to the earth. Hence this Moon would be called as a Super Moon. Normally Super moons would be 12% to 14% larger in size than the normal size. But this Moon would not be visible in the sky as it will line up with the Sun to create the solar eclipse. This super Moon swings just in front of the Sun, so that it appears like a silhouette in front of the Sun. The Sun would be in the house of Aquarius when the eclipse occurs.
The Solar Eclipse occurs on March 8, 2016, at 18 degrees and 56 minutes of Pisces. Natives with planets at 14 to 24 degrees of the mutable signs of Gemini, Virgo, Sagittarius and Pisces would feel the impact of this eclipse greatly.
Normally a New Moon signifies the starting of anything new, like a new career, a new-born in the household and the like. But with the Moon coming between the Sun and the Earth, causing the solar eclipse, there would be a disruption to all our endeavors. It destroys our routine way of life. The Moon would be blocking most of the Sun's energy. Hence be prepared for any shocking news on your personal front.
Word of Advise
Remember to use proper eye protection before you venture out to view the solar eclipse as viewing the solar eclipse directly might damage your eyes which might have long term repercussions. You can view the eclipse safely through special eclipse glasses only.
Eclipse Date and Timing
PDT : March 8th, 5.54 pm,
EST :March 8th, 8.54 pm,
GMT: March 9th, 1.54 am,
AEST: March 9th, 12.54pm.
Eclipse Adieu:
The next total solar eclipse is due to occur on 21 August 2017.
For more on Eclipses in 2016 ,
click here