Those living in parts of South America, Africa and Europe should be able to see at least a partial solar eclipse. However this solar eclipse would not be visible in India and in Asian countries. A similar solar eclipse happened in year 1918.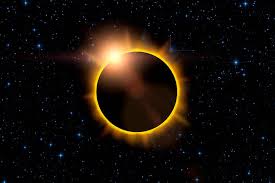 It is advised to observe the Solar eclipse with correct protective eye gear, else the sun-rays might harm your retina. This Solar Eclipse takes place in the zodiac house of Leo at 28 degrees and 53 minutes. Those with the personal planets between 24 to 30 degrees in the fixed signs of Taurus, Leo, Scorpio and Aquarius and 1 to 4 degree of the mutable signs of Gemini, Virgo, Sagittarius and Pisces would feel the pinch heavily.
Solar Eclipse Time
Los Angeles: August 21 – 11:30 am
New York: August 21 – 2:30 pm
London: August 21 – 7:30 pm
Delhi: August 21 – 12:00 am
Sydney: August 21 – 4:30 am
Astrology behind the Solar Eclipse
This is one of the most awaited astrological event for the year 2017. Another point of interest is that the Eclipse is in trine to the planet Uranus and hence expect the unexpected to happen around the globe. Uranus rules the unconventional side of our lives. Natives of the United States of America are expected to be affected the most because they seem to be in its total path. As Mars is also involved , impulsive and aggressive events are forecast for the time.
Astrology has it that for every minute of darkness of the eclipse the effect would be felt for one year period. This eclipse lasts for about 3 minutes and hence the next three year period would be having the effect of this eclipse.
The eclipse takes place at 28 degrees Leo. Therefore natives who have the Sun, the Moon or the Ascendant at 28 degrees Leo or its opposite sign of Aquarius would bear the brunt of this eclipse. Theeclipse happens in the zodiac sign of Leo, the lion king. Hence state-heads around the world would see some sort of turbulence in their area of command.
How the eclipse affects you
Those born between the last part of February and August 21st find it more personal in their lives this year. Eclipses are periods when major changes take place in our lives. It is also a good time for cleansing and clearing out clutter from around us. Home and relationships are highly favorable and where caution needs to be exercised during this season of the eclipse. Use this eclipse time productively and proactively.
Aries
The Solar Eclipse of August 21st, 2017 infuses potent energy on Aries natives. As you are already loaded up, use this energy positively towards service to mankind.
Taurus
The Solar Eclipse gives emphasis on home and family for Taurus guys. It brings about some mental and physical cleaning. Expect major things to happen in your lives this Eclipse season, folks.
Gemini
The Solar Eclipse of August 21st, rekindles romance or friendship sort of relationships for Gemini people. This is something you cannot live without for now.
Cancer
The Solar Eclipse of 2017 spruces up the financial sector of Cancer guys. Money and material possessions flow in your direction now. Bank on them, use them diligently.
Leo
This Solar Eclipse helps the Leo natives to evolve into a better person. Changes unfold around you without your intervention now.
Virgo
Your resolve would be further strengthened during this Eclipse season, Virgo. Face life boldly and expect big things to happen all along the way.
Libra
The Solar eclipse of year 2017 helps the Libra guys to query themselves about who or what they want in life and the ways and means of achieving the same.
Scorpio
Scorpio natives are in for a major breakthrough in their professional life during this Solar eclipse period. You would gain an authoritative position, strategize sensibly now and take responsibility in your hands.
Sagittarius
This Solar eclipse period would open up your minds, Sages. Engage with hitherto unknown people and the dots get connected automatically.
Capricorn
Issues that have been haunting you for quite some time get highlighted as the Solar Eclipse of 2017 takes place. Be bold and take action, else time might wear you down.
Aquarius
This Solar Eclipse brings love and romance around you. Follow your heart and speak your mind as good things are sprucing up in your love front for now.
Pisces
Your emotions are in for a major roller-coaster ride this Solar Eclipse season. You would be quite sensitive as well. Avoid feeling over-whelmed, do not react, things will settle down as the Eclipse effect wanes off.