Virgo is the ruler of public health and career. The retrograde in it will inhibit your progress. You might also fail to represent yourself well. Wear blue color as it is the color of communication. It might help you to a certain extent.
Virgo hates the chaos and disorder that this retrograde will bring. The star sign is practical. Mercury is the ruler of it, which makes things messier.
The top-notch handles of a Virgo are reliability, order, and routine. The retrograde disrupts all these. Try to stick to these, if possible.
As Virgo rules public health, the chance of eruption of pandemics like COVID is high! Look after your health.
Virgo is also a detail-oriented sign. Hence you shall triple-check your work before submission as the retrograde is likely to cause mistakes.
Also, avoid wearing yellow color as it will add to your emotional energy, and you might burst out on already agitated people. It will further ignite the situation.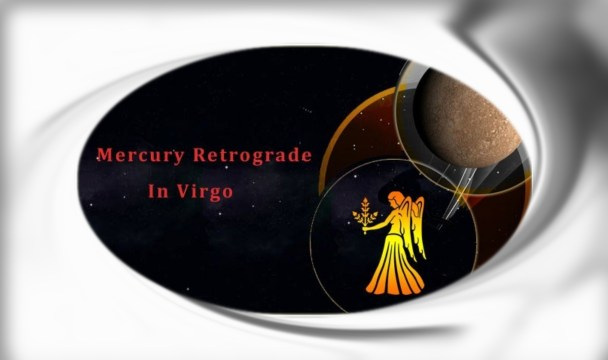 August 2023 Mercury Retrograde Effects on the zodiac signs
This retrograde phase of Mercury in the sign of Virgo during August 2023 will affect Aries, Taurus, Gemini, and Pisces the most.
Effects on Aries
Aries, you will be in for a bad ride with regards to your finances and career prospects during this retrograde period. Those of you into professional career will have to work hard to gain good results. However, the ones studying crafts would not be affected much. Also, you might be traveling unnecessarily, simply wasting your money. If you are planning to go for a vacation you would face hurdles. Avoid any conflicts with female members of your household, especially your partner. The retrograde would make you feel irritated. Aries, you like to take challenges head-on, but this retrograde will meddle with your goals. Do not wear yellow as it will anger you. You are already a hot sign. Wear red more often to keep peace at your home. Red is the color of family. It is worn to improve relations with family.
Effects on Taurus
Taurus, itself being an earth sign, would be affected by this retrograde. Taurus, you would feel irritated and anxious. However, with little effort, you will be alright. Avoid starting up any new ventures. You tend to be sometimes lazy with all your matters. However, with Mercury retrograde in detail-oriented Virgo, you shall double-check your work before submission. Also, the ones planning to go abroad for education would face hurdles. Taurus, avoid conflicts with your brothers! Married Taureans with children shall avoid fights with caretakers or babysitters as they could cause some significant trouble. Take frequent walks in nature to keep your cool.
Effects on Gemini
Gemini, although your health and financial matters will be fine for this retrograde, your career could be bad. You might change your job or profession, which could prove unfavorable for you in the long run. Also, you might indulge in conflict with your seniors or colleagues. Maintain your temper, or face rumors about yourself. Some of you would also conflict with the elders of the family. Do not be stubborn with them, or else they would not listen to you. Gemini, you are a social sign. Do avoid going out as the world might be in yet another pandemic.
Effects on Cancer
Cancer, this retrograde phase of Mercury in Virgo will play tricks on you. Try to be clear while delivering your message, or else confusion amongst your work and personal life shall arise.
Effects on Leo
Leo, the retrograde will slow down your progress in all aspects of your life. However, if you will force things, you will further the problems.
Effects on Virgo
Virgo, your relationship is in for destruction during this time. You would be arguing a lot in personal and professional circles. However, as soon as the retrograde ends all shall be normal.
Effects on Libra
Libra, as long as you keep your manner professional, your profession shall be okay.
Effects on Scorpio
Scorpio, try to maintain a positive attitude with regards to everything. You shall not reject any proposal without at least looking at it. You will be falling into an inquisitive mindset. Avoid it.
Effects on Sagittarius
Sagittarius, the retrograde period will confuse you. Try to clear your mindset with exercise and meditation. It would be difficult for you to put through your point.
Effects on Capricorn
Capricorn, if you don't spend time with your loved ones, problems would arise as Mercury retrogrades in the zodiac sign of Virgo.
Effects on Aquarius
Aquarius, the retrograde will affect your relationship sector. Give your loved ones space, or else issues might arise.
Effects on Pisces
Pisces artists, writers, and sculptors would be in for a bad haul during this period. You might not be able to achieve your goals, despite being associated with well-learned mentors. Also, traveling for any pursuits would be unfavorable. Your relation with your partner would be bad. Your children would cause issues. Lean onto your partner rather than pushing them away.
Learn more about 2023 Mercury Retrograde
To watch our videos on all Zodiac Signs:

Related Links
---
• What should I do to get rid of the disease I'm suffering from?