• The Direct Station of Mercury occurs in the zodiac sign of Libra on November 3 at 5:50 pm Universal Time, 12:50 pm EST and 9:50 am PST.
• Mercury ends the Post-Shadow in Scorpio on November 19 at 9:04 pm Universal Time, 4:04 pm EST and 1:04 pm PST.
The last phase of Mercury Retrograde for the year 2020 starts on the 14 th of October. This is a time which makes us more strong and bold. We would become more aware of our surroundings and would get more expressive than before. Though there would be times of agitation and nervousness around, use this time period to re-evaluate your activities in life.
Secrets would be exposed during this retrograde motion of Mercury in the zodiac sign of Scorpio. Sex and relationships would also be highly featured for now. For some, an Ex partner might come back into your fold. Some past events would be reoccurring much to your dismay.
The retrograde motion of Mercury through the zodiac house of Scorpio is the most straight forward and symmetric. This is because Mercury crosses the ecliptic before and after the retrograde motion and Scorpio is the north node for Mercury. During this retrograde phase, Mercury would be very close to the Sun. And this helps us to get a clearer picture around us thanks to the enormous light source of the Sun. Also there would be a clarity in our emotions as Scorpio is a watery sign. If you have planets in the zodiac sign of Scorpio, then watch out for signs from the retrograde phase of Mercury during year 2019.
The last Mercury Retrograde in Scorpio occurred in October of 2014. This is a great time to watch out for with the US elections around November 2020. Expect a major power shift coming its way. Also there would be major breakthroughs for the present pandemic we are passing through…Perhaps a viable vaccine is in sight??
Mercury Retrograde In Scorpio 2020 - Effects On The Elemental Signs
WATER SIGN
As Mercury goes retrograde in the watery sign of Scorpio, natives belonging to the water signs of Cancer, Scorpio and Pisces would feel the intense effects of this Mercury retrograde. There would be a stirring deep down in your inside. You would be able to understand your inner self fully these days though your emotions are in for a roller coaster ride.
FIRE SIGN
The fiery signs of Aries, Leo and Sagittarius would find the period very challenging. Some of your core values about life and relationships change now. You would be giving importance to others instead of your own selfish needs. This would give you a new inner peace, better positive energy and some of your old wounds get healed now through the retrograde phase.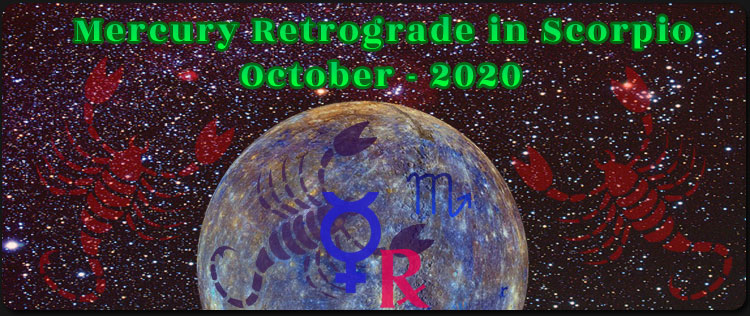 October 2020 Mercury Retrograde Effects on the zodiac signs
Mercury Retrograde Effects on Aries
Your undying spirit helps you to pass off this Mercury retrograde phase in good spirits. Although you would be given to taking major blows in life now. Though you are stressed out inside, do not let this phase rob you of your inner peace and creative vitality. Get to connect with your inner self and learn to go with the flow.
Mercury Retrograde Effects on Taurus
This retrograde phase of Mercury highlights you in a better light to the outside world. Your intimate and true commitment would be brought to the fore. Your loved ones would be seeing a whole new you, with they having seen you as a tough nut to crack all these days.
Mercury Retrograde Effects on Gemini
This retrograde phase of Mercury would bring out the twin hidden part of you out. This would be a phase of growth and not something to be ashamed of. You are a person of opposing polarities and this need to be balanced cautiously these days. Relationships might hit a roadblock, beware.
Mercury Retrograde Effects on Cancer
Be in for a surprise from your creative side as Mercury goes retrograde. Though you tried to hide your accomplishments, the spotlight comes calling on you these days. A lot of sensitive things would be revealed to you during these days. Spirituality would give you the much needed solace for now.
Mercury Retrograde Effects on Leo
As Mercury goes retrograde now, some Leos are in for a major betrayal in their lives. Someone close to you might have breached your trust level. Do not take it to heart, instead live well and enjoy life. Sometimes a sacrifice or back track might work wonders in relationships.
Mercury Retrograde Effects on Virgo
You are your own advisor and this Mercury retrograde might put you in a situation where you ought to heed to the counsel of somebody else. These days you would feel as if your power is lost or robbed. Do not expose yourself, instead keep secrets to your heart.
Mercury Retrograde Effects on Libra
This Mercury retrograde phase would make you to think more of yourself and your needs. You are always known to move to the whims and fancies of others. Why not let others do the task for you these days. A good time for some introspective moves.
Mercury Retrograde Effects on Scorpio
Quite a secretive and secluded person you are. But then, this Retrograde phase of Mercury would help to reveal some of your true inner self to you. This is a time for self exploration. Through the process, you would feel that you are going in circles, but don't worry, the cycle would soon end.
Mercury Retrograde Effects on Sagittarius
Feeling that you have sacrificed much to the world around? As Mercury goes retrograde you would be taken to situations where you would feel the effects of your sacrifices in life. Trust yourself and you can change the world around you in a more positive way , with tough times around.
Mercury Retrograde Effects on Capricorn
This retrograde period of Mercury would change the way you perceive relationships both personal and professional. In fact you would feel that people around you are your great source of strength. But tending to it in a positive way is of utmost importance now.
Mercury Retrograde Effects on Aquarius
Time to show the world the fruits of your long labour, Aquarius. Even if you don't feel like showing off your achievements in life, the retrograde motion of Mercury would bring it to the fore. In fact, this is not pride, it is the best time to show your true self. Being true and straight forward gives you good returns these days.
Mercury Retrograde Effects on Pisces
Your creative pursuits would take you to a new perspective of life with Mercury going retrograde around. Look around and enjoy the fruits of your passions. This is something that you had long worked for, and now it is time to sit back and enjoy life, one day at a time. But do not rest on your laurels.
Related Links
---