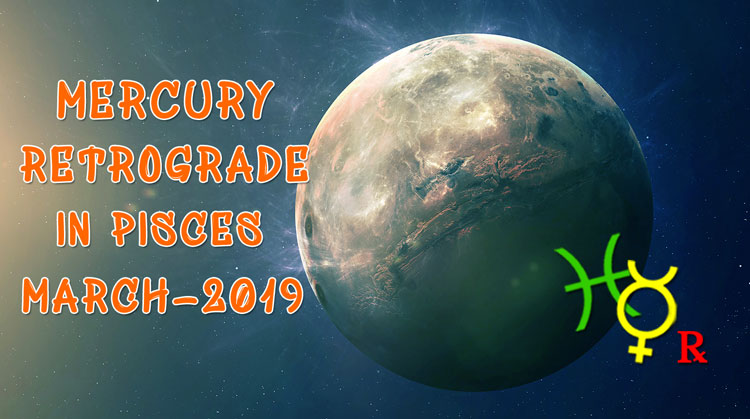 Mercury Retrograde Periods
• This Mercury Retrograde of 2019 begins with the Pre-Shadow in Pisces (16o 6") on February 19, 2019, at 2:19 pm (UT)
• Mercury goes Retrograde in Pisces (29o 39") on March 5, 2019, at 6:19 pm (UT)
• The Direct Station occurs in Pisces (16o 06") on March 28, 2019, at 1:59 pm (UT)
• Mercury ends the Post-Shadow on April 16 at 8:03 pm EDT, April 16, 2019, 12:03 am (UT)
All the three Mercury retrogrades of Mercury in year 2019 occur in watery signs of Pisces during March, in Cancer during July and in the zodiac sign of Scorpio during November.
A point to note here is that the effects of Mercury retrograde in watery signs would be quite subtle as water is quite receptive in nature. There would be no noticeable change around, yet something would be taking place behind the scenes. You would be more susceptible to the feelings and emotions of those around during the retrograde periods.
Water has the tendency to bring things together with the flow, hence expect some mass connections or movements during the period. People power gets to the fore.
2019 March Mercury Retrograde Effect on the Elements
Water Signs
The water signs are Cancer, Scorpio and Pisces. Your priority over things and relationships would change this period. And this change is quite inevitable and beyond your control to steer. However water sign people would become a solace for many during the retrograde period. This is a perfect time to change some of the de-hard habits that you were wanting to change of late.
Fire Signs
The fiery signs are Aries, Leo and Sagittarius. As the Mercury retrograde occurs in the watery sign of Pisces, this season would have its major impact on the fiery signs as fire and water are opposite in nature. Natives are advised to lay low for the period and cool their heels. Things might go out of hand, relax and view the bigger picture. Take the guidance or company of others as solitude does not work for now.
Earth Signs
Taurus. Virgo and Capricorn happen to be the Earthy signs. During this Mercury retrograde phase, the natives are advised to go with the flow and relax their territories. Give importance to relationships and look for advises and encouragement around.
Air Signs
The airy signs are Gemini, Libra and Aquarius. These guys are advised to go slow and not to over-react to circumstances around as Mercury Retrograde occurs in watery Pisces. This is not a time to raise your voice, instead try to bring about peace and harmony.
2019 March Mercury Retrograde effects on the zodiac signs:
Aries
This Mercury retrograde would make you to re-evaluate some of your past jobs/works. There would be a juggle of your peers in career.
Taurus
Taurus guys would experience confusions/complex situations. There would also be a missing link when it comes to communication with family and friends during this time.
Gemini
The retrograde motion of Mercury would bring about an uncertainty with regard to personal and professional life of Gemini folks during March, 2019.
Cancer
This Mercury retrograde season would trigger a dispute or misunderstanding in your relationships . A good time to retract to your shell!!
Leo
Leos would feel the financial pinch during this Mercury retrograde. It is time to re-plan or re-evaluate your budget to be financially stable. Co-operative deals are also in for a break-up now.
Virgo
This is a period that calls for the Virgo folks to re-organise their life. Through the period you would be able to interact with others around in a new light.
Libra
As Mercury retrograde sets in, Libra guys would seek the spiritual side. You would prefer to lay low, in isolation perhaps to seek solace and peace.
Scorpio
Utilize this Mercury retrograde phase to prune your relationships. Also an ideal time to get out of social circles that seem not in tune to your ideals and ideas.
Sagittarius
The Mercury retrograde period brings about all sorts of misunderstandings and hitches in your relationships at home and work.
Capricorn
As Mercury goes retrograde, Capricorn guys would get some favour related to their academic pursuits. Overseas connections would be established for some.
Aquarius
Financials of Aquarius folks likely to get a beating thanks to Mercury going retrograde. Hence pay attention to your financial moves and budget for now.
Pisces
Relationships need a revamp or re-tuning during this Mercury retrograde phase. Those in love or marriage ought to revisit their vows as a couple. An ex-flame might sprout back from nowhere.
Related Links
---
• Find what is in store during 2019