• The Direct Station of Mercury occurs in Gemini at 16º 08' on June 22, at 10:00 pm Universal Time, 6:00 pm EDT and 3:00 pm PDT.
• Mercury ends the Post-Shadow period in the zodiac sign of Cancer on July 7, at 5:45 pm Universal Time, 1:45 pm EDT, 10:45 am PDT.
Do note that the previous Retrograde in Gemini during May 2015. Hence, look out for clues from that period. There would be a repetition of events, if you would closely monitor.
MERCURY RETROGRADE IN GEMINI
As Mercury is the ruler of the house of Gemini, this retrograde of Mercury would be quite intense in nature. Also those natives who have major planetary placements in Gemini stand to get affected a lot.
This Mercury retrograde in Gemini foretells the return of Exes in many of our lives. And some of you might be forced to date the wrong person. Natives are advised to lay low and maintain a healthy relationship with their existing partners though an Ex might turn out in front of them anytime during this retrograde phase.
Followed by Gemini folks, those born in the zodiac signs of Taurus, Cancer, Sagittarius and Pisces also stand to get affected by this Mercury retrograde through the sign of Gemini. There would be plenty of chaos around and natives are advised to remain calm and composed and sail through tough times. This is a time for some spiritual pursuits and when life's important lessons can be learnt.
Mercury in Gemini is all about diplomacy and communication which is discrete. There would be honesty in relationships. This placement makes us too emotional and thinking gets murkier and fluctuates with time. Past memories continue to haunt us. There would be a sense of curiosity around, however this might make things around us worse.
During this retrograde phase, natives are advised to do one thing at a time, beware of miscommunications and sticking to routine jobs would be the best. Though the pace would be slow, make sure you have a strong footing. Mercury retrograding in Gemini helps gossip mongers to survive. Sometimes, your point might not get across the table in the right wavelength.
Another important advise for natives is to be patient as retrograde Mercury usually convinces us into rushing things. Always leave enough leg room for any of your tasks.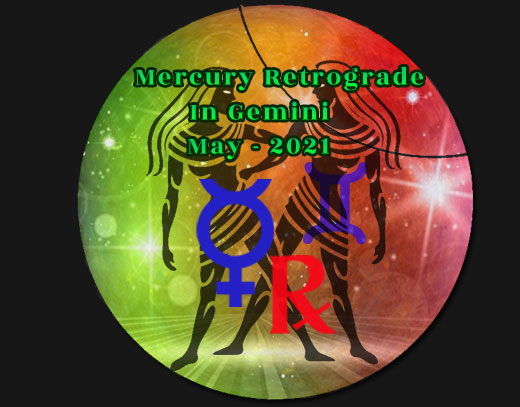 Planetary Influences During This Mercury Retrograde
This time, Retrograde Mercury will be conjunct with Venus, Rahu or the Moon's North node and the luminary Sun. Also Mars will influence this combination for quite sometime.
The retrograding Mercury will be combust (close proximity to the Sun ) during 02-23 June and trine with retrograde Saturn.
During this time, there will be an Annular Solar Eclipse on 10 June, which would be visible only in parts of North America, Europe and North-Asia.
People living in the East coast of USA, Canada, Europe, Russia, part of China will be most effected.
This eclipse along with retrograde mercury might meddle with our personal finances and global economics.
Those born with the Moon in the zodiac signs of Libra and Gemini are the most likely to be affected as Mercury retrogrades.
May 2021 Mercury Retrograde Effects on the zodiac signs
| | |
| --- | --- |
| Sign | Effects of 2021 Mercury Retrograde in May |
| Aries | Career woes abound |
| Taurus | Misunderstandings in love and marriage |
| Gemini | Financial troubles |
| Cancer | Very sensitive and emotional period |
| Leo | Financial issue aries |
| Virgo | Communication gets hindered |
| Libra | Anger and temper tantrums |
| Scorpio | Disputes with friends |
| Sagittarius | Domestic welfare affected |
| Capricorn | Anger abounds |
| Aquarius | Money inflow hampered |
| Pisces | Confusion and chaos |
Learn more about 2021 Mercury Retrograde
Related Links
---