MERCURY RETROGRADE STARTS IN AQUARIUS
Aquarius rules over friendship, our social life and our commitment to the society as a whole. These areas would be greatly highlighted by Mercury here. But do note that self should not be deserted, hence have some self-time too. Mercury retro in Aquarius advises us to re-evaluate our future plans and goals. Not every dream of ours would be viable and hence we are given time to tweak the same. During this retrograde phase, Mercury alters the way we communicate with our loved ones, particularly with those of the other generations. Though things around seem very negative and optimism would be thrown to the wind, do not act hastily. Approach life from a different perspective and there would be bliss.
MERCURY RETROGRADE ENDS IN PISCES
The sign of Pisces is all about imagination, dreams, feelings and emotions. Mercury in Pisces is a difficult position, however during the retrograde there would be a revamp of our emotional life. Mercury reflects the intellect and sensible side of us, hence its position in Pisces would be quite challenging for us. When Mercury is in Pisces, logic and reasoning are thrown to the wind. Communications would not be that clear, with better transparency out of bounds. Misunderstandings abound in personal and professional life.
This is a time when we are advised to lay low and connect more to our inner self as contact with the outside world seems quite murky. However those into creative and passion pursuits would be doing good as Pisces supports the same. They would become more intuitive, spiritual and creative. Also Mercury in Pisces guides us towards social and charity works, things that have to do with empathy and compassion to the needy. If we have our emotions under check, then there would be betterment. Mercury would be staying in Pisces till the 4 th of March.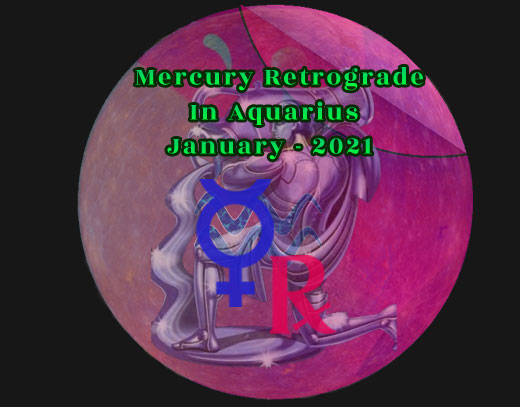 January 2021 Mercury Retrograde Effects on the zodiac signs
Effects on Aries
This Mercury retro phase of 2021 would alter the way, Aries handle give and take policies. They would be able to change the way they related to people. There would be a total revamp of their financial moves now.
Effects on Taurus
Be careful with regard to signing important documents or service contracts this Mercury retrograde phase. You stand to gain better money if you would put in better work and commitment. Certain hidden truths would be revealed to you during the period.
Effects on Gemini
With your ruler Mercury going retrograde, there is no dearth for truth that your life would be turned upside own. However you can utilize this phase to re-organise your lifestyle, making small things here and there that would make a marked difference for the world you live in.
Effects on Cancer
This Mercury retro phase might make the Crabs to retreat to their shells for cover. Though this is good, laying low would not bring about much change, facing the tide does. Some of your long lost interests would be brought to the fore as Mercury goes retrograde.
Effects on Leo
Leos would be facing some problems that they felt had long gone now during this Mercury retrograde. It would be a tough time for you to control your emotions and feelings as well. Natives are advised to forge ahead and do not take any past grudges along.
Effects on Virgo
This Mercury retro period would put to the wind your idea of cleanliness and perfection. You may need to compromise a lot over here. Mind your words as all sorts of communication are enough to bring about dangerous sparks in your relationships.
Effects on Libra
The financial side of Libra natives would be highly shaken. You would be forced to be indulgent. But this is not the time, be cautious of your financial moves. Prune your expenditure, by way of which you would be saved from future turbulences.
Effects on Scorpio
Scorpios would be asked to shed their secretive side during this phase. This would be the right time to show your true colours to your near ones. Be frank and let your actions do the talking now.
Effects on Sagittarius
Sages are in for a spiritual revamp during this Mercury retrograde that takes place in January 2021. Now you would be able to forgive and forget certain past misdeeds around you. You would also become more sensitive to the needs and desires of your near ones.
Effects on Capricorn
This phase might meddle with your relationship with friends. False friends and accusations abound around. You would be exposed to some unpleasant news about them. A good time to decide who stays in your life and who is to be kicked out.
Effects on Aquarius
This particular period of would be tough for you as it happens in your hometown. Try to finish tasks that have been long in the backburner. A good time to chose professional and personal paths that would lead to a better future.
Effects on Pisces
Pisces folks are in for major changes in their lives as Mercury ends its retrograde session in their sign. You would be forced to accept changes as they come your way and these changes would be mixed. You would be forced to accept some as well. Better to budge than to resist for now.
Learn more about 2021 Mercury Retrograde
Related Links
---