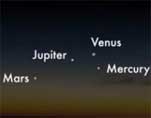 This so called dance of the planets is only an apparent motion of the planets in the evening sky. They will spin around each other changing their positions in the sky from one night to the other.
This dance of the planets can be viewed by the naked eye each night but a pair of binoculars shall make it more interesting. In the US those in the Northern states may need a binocular for better viewing. Once the evening ends the planets shall slowly move behind the Sun as night falls.
This is a sight that comes once in a decade only. The four planets appear brighter in the evening sky next only to Moon. Such an alignment of the planets generally does not happen every day.
It is probably one of the events where the planets are so tightly held together ever in this century. The movement of the planets watched day after day in this particular period simulates a dance summit up in the evening sky, a rare sight to behold.