The second third of zodiac, from 0 degree of Leo to 0 degree of Sagittarius (the Nakshatras from #10 Magha to #18 Jyeshta) are under a tamasic influence. The third part of zodiac, from 0 degree of Sagittarius to 0 degree of Aries (the Nakshatras from #19 Mula to #27 Revati) are under a sattvic influence.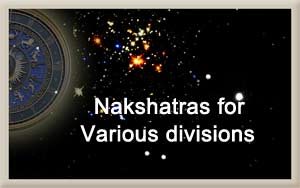 Nakshatras - class divisions of society:Bramin Nakshatras: Krittika (#3), Purva Phlaguni (#11), Purvashada (#20), Purva Bhadra (#25). Kshatria Nakshatras: Pushya (#8), Uttara Phlaguni (#12), Uttarashada (#21), Uttara Bhadra (#26). Vaishya Nakshatras: Ashvini (#1), Purnavasu (#7), Hasta (#13). Farmer caste of Vaishya varna Nakshatras: Mrighashiras (#5), Chitra (#14), Jyeshta (#18), Dhanishta (#23). Shudra Nakshatras: Rohini (#4), Magha (#10), Anuradha (#17), Revati (#27). Butcher caste of Shudra varna Nakshatras: Ardha (#6), Swasti (#15), Mula (#19), Shatabhishak (#24). Mleccha (outcaste) Nakshatras: Bharani (#2), Ashlesha (#9), Vishkha (#16), Shravana (#22).
Nakshatras - animal types:Nakshatras relates to an animal type, based upon the sign in which it is located. Aries (ram), Taurus (bull), Capricorn (goat) and first half of Sagittarius are quadrupeds. Leo is a forest dweller. Gemini, Virgo, Libra, Aquarius and second half of Sagittarius are human. Cancer and Pisces are aquatic. Scorpio is insect.