The Taurus woman and the Pisces though being complimentary signs are very compatible in life together.
The Pisces guy dreams big and the earthy Taurus girl brings him back to reality. Each one manages to sort out the differences with the other one and hence there would be bliss in this combination.
The simple and down-to-earth Taurus easily gels with her complicated Pisces guy so easily. There is a special chemical bonding between them both in life.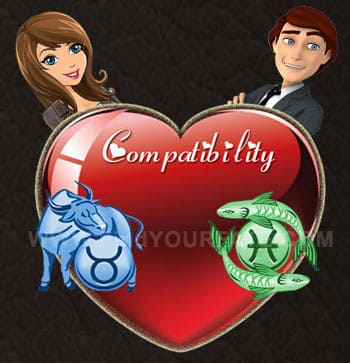 Famous Taurus-Pisces Couple
• Melissa Gilbert and Rob Lowe
• Penelope Cruz and Javier Bardem
• Jessica Lange and Mikhail Baryshnikov
• Cher and Sonny Bono
Compatibility for Romance
The Taurus woman and the Pisces man are very compatible when it comes to romance and passion. Both are very sensuous, so they don't mind hugging, kissing, holding hands and carassing even in public. Much passion is involved here and this is one combination where romance gets a new meaning. There would be a special knot that binds the duo together as if held in a land of fantasy.
Compatibility for Friendship
The Taurus girl and the Pisces guy make good friends in life. This is because both are interested in a simple, and plain relationship without much strings attached. They strive to make the other one happy at all costs. Their expression of love, care and loyalty exceeds all boundaries and this would be a great relief for the Pisces male and a pleasant one for the Taurus female.
Compatibility for Marriage
This combination is very much compatible for marriage, provided the Taurus woman is not much practical and the Pisces man is not much dreamy. Compromises between the two keeps the relationship going despite odds at times. This marriage takes time to grow as both are more bent on laying a strong foundation. Both of them are not into straying and know the problems involved with it.
Compatibility for Sex
The Pisces man is very sensuous and knows how to satisfy his partner who is very sensuous too. The act of sex would be an intermediate stage neither too physical or mental for the Pisces guy. But then both know how to handle this cautiously. The Pisces male is known to venture into new territory like trying out new poses, new places and the like for this act of sex. Even if the Taurus female is not able to reciprocate he is not much worried.
The End game
This is one combination where the relationship is not going to end that easily. The Pisces is one who clings on to his partner despite differences. His emotional backlashes might hurt the Taurus female. it takes a while for the Pisces guy to forget the past and carry on. The Taurus woman would be more than happy to be relieved of her partner when things turn tough in the relationship.
www.findyourfate.com Rating 5/10
Cancer Leo Virgo Libra Scorpio Sagittarius Capricorn Aquarius Pisces Aries Gemini