There would be much passion in this relationship between that of a Taurus woman and a Libra man. But with time differences likely to creep in marring goodness in the relations.
The Taurus woman might feel insecure as the Libra man is not too committed to the relationship. Only patience would help her to win him over. But then the love involved would be too overwhelming. With both the signs ruled by Venus, the relationship can survive if both compromise a little.
The Taurus woman yearns for physical contacts while the Libra man loves pleasure on a different level. Earthy possessions bind them together.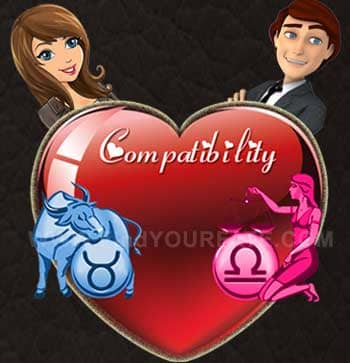 Famous Taurus-Libra Couple
• Eva and Juan Peron
• Ann Margaret and Johnny Carson
• Debra Winger and Arliss Howard
Compatibility for Romance
Though much romance is involved with this duo, the Libra man finds it difficult to showcase it to his mate. He is not spontaneous to act and the Taurus woman is equally not much interested in surprises, instead needs commitment and reliability. The Libra man cannot offer anything as a surprise. The Taurus girl asks for physical pleasure which would be usually offered by the Libra man without any compromises.
Compatibility for Friendship
This combination of a Libra man and a Taurus woman make compatible friends if they have a common project to complete. It would be like maintaining a house or property. Both of them have almost identical tastes and ideas that there would not be any hitches in the friendship. In general, the Taurus female best likes to be left alone when she is busy with her tasks.
Compatibility for Marriage
This partnership would do well in marriage. But the marriage would not be done on an impulsive note. The Libra man would weigh the pros and cons and gets to tie the knot only if the Taurus female has social connections, god reasoning and a good temperament t go with. The Libra man takes charge here, preparing a good marriage ceremony and the ensuing honeymoon and the like. This is one couple that do not find issues unless financial difficulties set in.
Compatibility for Sex
With this duo sex is not a must for the relationship to succeed. But then it is needed on a constant dose for a marriage to survive isn't it??. Libra has more ways to show his love and care than indulging in sex but the earthy sign of Taurus might feel famished with this attitude of the Libra male. Both of them need to make some compromises in this area for better compatibility in their sensual life.
The End game
The Libra man hates any sort of emotional outbursts when they call the party off. Hence he would be more than willing to make a proper legal compromise with his partner. He would like to part with her as good friends. But this would be too hard to handle for the emotional Taurus, who takes time to find a good footing.
www.findyourfate.com Rating 5/10
Cancer Leo Virgo Libra Scorpio Sagittarius Capricorn Aquarius Pisces Aries Gemini