The Aries woman is a go-getter and likes adventurous activities while a Taurus male is a dull-head.
There would be some financial issues as well where the Aries woman likes to spend a lot while the Taurus spends only for the essentials in life.
If the Taurus male gives the necessary freedom for the Aries woman then there would be goodness in the relationship. Aries woman makes life more enjoyable for the Taurus.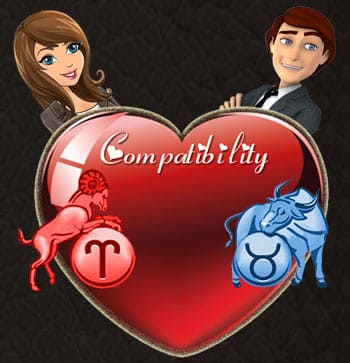 Compatibility for Romance
This combination does not have much romance involved instead both the Taurus man and the Aries woman would be more into the practical aspects of life. Neither is interested in romance at sight but instead are more bent towards caring for each other's interests and the like.
Compatibility for Friendship
This duo of an Aries woman and a Taurus man has better compatibility for a friendly relationship. Much comradeship would be involved here. They get along well in their paths and walk the talk together.
Compatibility for Marriage
Since both the Aries female and the Taurus male are extroverts there would be good compatibility in marriage. They go along together in raising children, building homes, improving financial status together without much hitches as well take time for socializing too. Both are more bent on possessions and this duo has a good chance of marriage survival.
The End game
Though this combination seems to be very compatible, there would be frequent bickering and hitches in the relationship. Aries says that what she says is right while Taurus sticks to his stand. Amidst all these it would be the family surrounding them that suffers a lot till the end.
www.findyourfate.com Rating 7/10
Cancer Leo Virgo Libra Scorpio Sagittarius Capricorn Aquarius Pisces Taurus Gemini