An Aries woman and a Pisces man are romantic enough for a compatible relationship.
However there would be occasional practical difficulties due to adjustment issues. Aries female is highly aggressive which bothers the Pisces man.
on the other hand the Pisces man is too mystical for the Aries woman to fathom. However the romantic side of this duo keeps it going...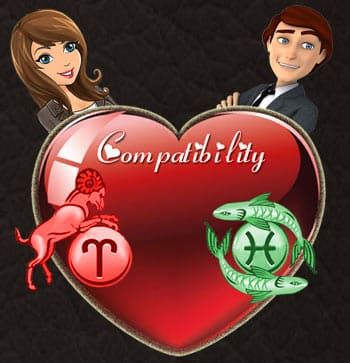 Famous Aries-Pisces Couple
• Sarah Michelle Gellar and Freddie Prinze, Jr
• Lara Flynn Boyle and Kyle MacLachlan
• Maria Sharapova and Adam Levine
Compatibility for Romance
Though the degree of compatibility would be high for this duo it would be on different planes or levels for the other one to experience and get entwined in it. Hence it would look as if there is no passion involved. The Pisces man throws water over the fiery Aries' woman's passion.
Compatibility for Friendship
The Aries woman and the Pisces man make good friends for life. They enjoy together doing social things. Aries would give all the mental and physical support for the Pisces man who would take care of the sensitivity of the issue at hand.
Compatibility for Marriage
This combination is not compatible for marriage and its aftermath. For both it would be a hypothetical state of affairs. The Pisces of course likes to settle down, but the Aries does not like any sort of binding. She loves to live an independent life and hence marriage would be out of question with this pair.
Compatibility for Sex
Both being passionate signs, Sex can be off the chart between these two. There would be no lacking here.
The End game
The end is never in sight as the party had never started. Aries would think that betterment is just round the corner. She thinks that she can turn it in the positive direction but in vain. Also the Pisces never ends anything practicaly and hence the relationship continues if not under a sour note.
www.findyourfate.com Rating 3/10
Cancer Leo Virgo Libra Scorpio Sagittarius Capricorn Aquarius Pisces Taurus Gemini