This relationship between an Aries woman and a Capricorn man would succeed if they are willing to make compromises on the way. Otherwise the impulsiveness of the Aries and the practicality of the Capricorn clash.
The Aries expresses herself easily while the Capricorn man finds it difficult to express his feelings. They can get along well when it comes to business or professional matters.
Not much romance and passion can be seen here. But the duo succeed in life together clinging on to common causes like raising children, garnering finances and the like.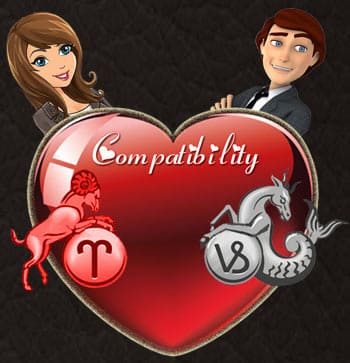 Famous Aries-Capricorn Couple
• Kate Hudson and Chris Robinson
• Patricia Arquette and Nicolas Cage
• Celene Dion and Rene Angelil
Compatibility for Romance
Though not much romance is to be found in this pair the relationship would last long enough. Aries would be too romantic for the Capricorn man to handle. He is usually reserved when it comes expressing one's sensuous feelings and emotions. But he tries to show his love for her by raining material benefits on her and not by his emotions.
Compatibility for Friendship
An Aries woman and a Capricorn man do not make good friends for life but they make use of the each other's company wisely. If each is honest then the relationship can thrive on a kind of friendly note.
Compatibility for Marriage
This is a good combination for marriage. But it has to do more with a traditional, conventional sort of marriage. Marriage usually has to deal with raising children, improving the finances of the household and maintaining the status of the family in the society.
Compatibility for Sex
Sex comes naturally for this combination. It would be a predictable act for both involved in the relationship. The Aries girl would also look out for something new and the Cap if can feed her senses, it would be well and good for the duo.
The End game
This would be a stable and strong relationship as Capricorns usually cling to what they hold forever. Only the Aries woman if she feels getting bored has to call the last shot.
www.findyourfate.com Rating 6/10
Cancer Leo Virgo Libra Scorpio Sagittarius Capricorn Aquarius Pisces Taurus Gemini