The combination of an Aries man and a Taurus woman is not just the right combo. Initially there would be much affection involved, but as time goes on there would be too much of in-fighting and nagging in the relationship.
The reason is that the Aries man does not take life very seriously and is a couch-potato while the Taurus woman would be much practical regarding life's activities.
The Man's ego irritates the Aries woman who feels too much restrained.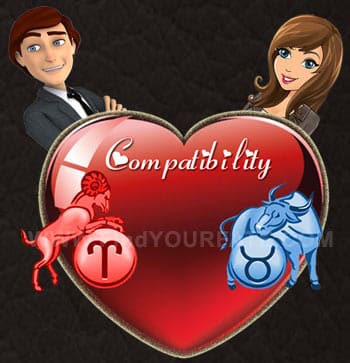 Famous Aries-Taurus Couples
• Katherine Hepburn and Spencer Tracy

• Renee Zellweger and Kenny Chesney

• Uma Thurman and Gary Oldman

• Michelle Pfieffer and David E. Kelley

• Ann Margaret and Steve McQueen

• Annette Benning and Warren Beatty


Compatibility for Romance
There would be much romance with this combination of personalities of an Aries man and a Taurus woman. The passive nature of the Taurus woman goes well with the dominant Aries man. The Taurus woman can attend to the domestic needs of the household and this makes her charming to the Aries Man.
Compatibility for Friendship
An Aries man and a Taurus woman make a good friendship duo too. Each would be focused on his/her task at hand. He would give the inspiration to get things done and the Taurus lady in turn would lend a helping hand. Together they can go miles. The only drawback comes when their ideals and goals are on different wavelengths.
Compatibility for Marriage
This is a good combination for marriage. Both the Aries man and the Taurus woman are committed, hard working and have high values regarding the institution of marriage. Both their aims would be to have children, a good house, better finances, a long term relationship, etc and hence the going would be easier here.
Compatibility for Sex
Much physical sensuous nature would be involved in this duo. The Aries man has an athletic build-up a pre-requisite for good sex. Taurus woman likes to be handled well. Though much fire would not be involved here, sex would be highly satisfying.
The End game
When the going gets tough then this combination ends on a clean slate. There would be much honesty involved and there would be no room for feelings and emotions here. They do not carry any bad luggage from the relationship.
www.findyourfate.com Rating 8/10
Cancer Leo Virgo Libra Scorpio Sagittarius Capricorn Aquarius Pisces Aries Gemini