Career
During the year 2014, snake natives would feel a bit stagnated in the work place. There would not be any major changes in the career front. But take it in a positive sense. Make sure that there is stability around you despite tremors around you at work. There would be good rapport with your authorities and peers for this year.
Love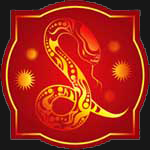 Love life would be a bed of roses for snake individuals in this year of the horse. There would be love and romance all around you. If already in a relationship it would be testing time for snake people. But make a positive effort and stick to your current relationships come what may. Betterment is just round the corner.
Finance
During this year, you need to tread carefully in your financial path as troubles are lurking all around you. You ought to save some for the rainy day and avoid over-spending. Put up a reasonable budget and make sure that you stick to it till the end of the year.
Health
Snake people would enjoy good health and cheer in the year of 2014. Though occasional minor health scares cannot be ruled out. You need to be careful with your diet and exercise regimen if you need to run the race against time and aging.