Uranus transits your 9th house of Taurus all this year assuring overall prosperity and Neptune would be transiting the 7th house of Pisces influencing your love life. Pluto would be transiting the 5th house of Capricorn and then moves to your 6th house of Aquarius in May/June of 2023. These planetary transits would affect the various areas of life for the Virgo through the year.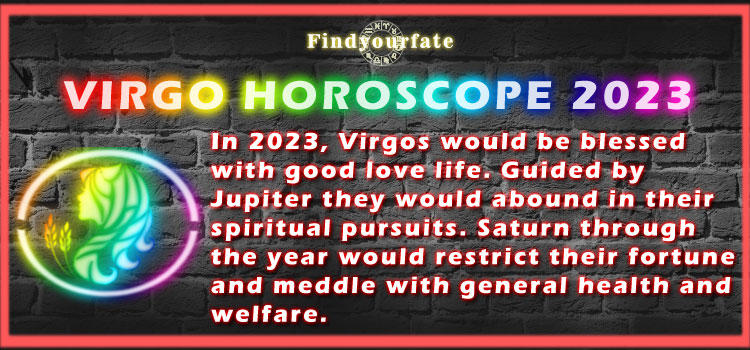 •  Year 2023 promises to be a generally good year for Virgos. They would have good development in all areas of their lives.
•  Through the year, you would be able to realize your life ambitions or goals.
•  Natives would become more spiritually inclined this year.
•  You would be full of energy and vigor and your creativity would be brought to the fore these days.
•  Do not miss any opportunities that come your way in your professional field this year.
•  Don't let over confidence go to your head for the period, it would hinder your growth.
•  Career development seems to be your plus point this year, go on and achieve major milestones.
•  In 2023, Virgos would be more spiritually oriented than ever before.
•  Partnership deals in personal and professional life are most favored for the period.
•  Major changes come your way around the last quarter of the year 2023.
•  Things seem to be moving in the right direction this year and happiness and peace abound in your life.
Virgo Love And Marriage Horoscope 2023
The year starts on a pleasant note for the love or marriage pursuits of Virgo thanks to the influence of the planets of love namely, Venus and Mars. Through the year, you would be able to capture your lover or partner into your net. Your independence and sense of freedom might be challenged at times, keep gong. Be calm and do dodge things that are just not right enough for your relationship right now. Find out what best suits you both. With the progress of the year, your love life or marriage evolves slowly but steadily. Together with your partner make plans for a better future. As the year ends, your love or marriage would start yielding fruits, you stand to tie the knot if not yet , the married ones are most likely to conceive, and if you have a child already, then more are on the line.
Virgo Career Horoscope 2023
The year 2023 would start with Mars hindering your growth and development in the professional field. There would be lack of energy and motivation to keep you going. Things seem to be hitting a hard wall for the first quarter. Then the environment would become favourable from the professional point of view. Jupiter would bless you with good gains. You can start new ventures if into your own business. You would forge better ties with acquaintances who would up your professional standing. Partnership deals would work in your favour and you stand to earn name, fame and prestige in the work place.
Virgo Health Horoscope 2023
This year would be very good from the health perspective for Virgo folks. Due the benefic aspects of Jupiter your energy levels would be good and you would be constructive in your thoughts and actions. Your general health would be good and this improves your performance in profession as well. The benefic aspects on your Ascendant house also forebodes good health and cheer all this year. However some natives might suffer from illnesses related to the weather, but then there would not be any major impacts on life. Those with chronic issues need to be cautious around mid-year. That would be an odd period for you when you should be extra cautious. Periodic medical intervention would help you to stem the tide of any health issues that might haunt you.
Virgo Finance Horoscope 2023
The year 2023 starts with favourable economic position for Virgos. Jupiter around makes sure that there is constant inflow of funds for the natives. Keep working and find all ways and means to accumulate wealth. The planets help you in pursuing all roads towards financial stability.
Virgo Education Horoscope 2023
The beginning of the year would be very favourable for Virgo students. It would be a moderately successful year for competitions and tests of sorts. Particularly those into professional studies would find the year very productive and remunerative. Saturn's effect on your 6th house will help you succeed in all your educational endeavours. Virgos aspiring to pursue higher education in foreign land would also be able to do the same.
Virgo Family Horoscope 2023
This year the planets guide you to evolve more gracefully in your domestic life. However Saturn would be pushing you out of your comfort zone this year. You would be able to learn a lot more about yourself and family members this period. The transit of Jupiter in May might bring about some confusions and misunderstandings in the family environment. Mars would be giving you the energy to perform well in the domestic sector. Even if you derail from your responsibilities, it would help you get back on track.
Virgo Travel Horoscope 2023
The year 2023 would be very supportive for the travel hopes of Virgo natives. Jupiter aspecting your third house ensures that you go on many short journeys this year. Those into services would be undertaking many long and short haul journeys. Due to the combined aspect of Jupiter and Saturn on your 12th house of Leo, you are destined to go on foreign travels too this year. All your travels stand to bring about gains for you. During the last quarter of the year, Rahu or the Moon's North node would be aspecting your 12th house indicating foreign journey as well.
Virgo Buy/Sell Horoscope 2023
Virgo people are advised not to indulge in buying and selling for the first half of the year 2023. Things shall improve to buy or sell property in May with the transit of Jupiter from your 8th to the 9th house of prosperity. The last quarter of the year in particular favors acquiring much property for Virgos. There would be stable income owing to property for Virgos all through the year.
Virgo Women Horoscope 2023
The first quarter of the year would prove to be a period of constant struggles for Virgo women. In particular, they should be cautious in dealing with finances and money. Income flow owing to career or business would be quite stable but steady though. Virgo women who are expecting to beget a child would be able to conceive somewhere through the year. Foreign travel on the cards for Virgo women too as Rahu favors the same. Through the year, resort to spiritual deeds to give you mental peace and harmony in life.
Virgo Men Horoscope 2023
In total contrast to Virgo women, Virgo men would find the first half of the year very easy when compared to the latter half. In general it would be a mixed period for the men folks. Virgo men would excel both in their personal and professional life this year. Natives would involve themselves selflessly in charity, social and spiritual works. There would be much passion and romance in your love life or marriage than ever before. Through the year, Mars would provide you with ample energy levels to keep performing better. However, Virgo men are advised to take good care of their health and not to indulge in food. Do monitor your finances throughout the year and stay away from tough situations. The planets are placed in favor of the Virgo boys, which will be a very eventful year. Saturn might make you a scatter brain, hence be careful and do not let emotions over-rule you these days.
Virgo Spiritual Horoscope 2023
2023 would be a very auspicious period for religious ceremonies in the life of Virgo people. There would be much better devotion to your Gods than ever before now. This year, you would be able to make some sacrifices that you owe to your God. Visiting holy places or going on pilgrimages would earn you virtues. The transit of Jupiter would encourage you to donate for charity and involve in social works.
Advice For Virgo in 2023
Virgo natives are advised not to make hasty decisions for the year ahead. Do focus your energy towards improvement of your relationships and finances this year. Learn life lessons from tough situations you come across now. Do not hesitate to make amends or corrections when the situation warrants the same. Give your best to your relationships and stay spiritually blessed. Saturn might restrain or constrain your forward movement, do not lose heart, lay low for the tide to move in your favour. And Jupiter would open new doors of opportunities this year, learn new skills.
To watch our videos on all Zodiac Signs:  

---
Frequently Asked Question
1. What would be the financial standing in 2023 for Virgos?
This would be a stable financial season.
2. Will there be any major changes in the love life or marriage of Virgos?
There are no major planetary influences affecting love or marriage, hence no major changes are forecast in this area.
3. What about the career prospects of Virgos in 2023?
It would be a moderately successful year for Virgo students this year.
4. What will be the year like for Virgo women?
It would be a period of constant struggles for Virgo women.
5. One piece of advise for Virgos?
Do not make hasty decisions, instead lay low for the apt time to strike.
6. How will be the spiritual life of Virgos this year?
Virgos would be finally able to make some sacrifices that they owed to their God.
---
Astrological services