Uranus continues its stint through your sign for the whole of 2023. Neptune travels in your 11th house of Pisces and Pluto in Capricorn, your 9th house would be shifting to your 10th house of Aquarius between May and July of 2023 when your career would become the focus.
Venus in Aquarius during January 2023 brings about some troubles in your love life, however its shift to Pisces, a watery sign which happens to be the abode of Jupiter would regain your confidence level in love pursuits. You would be able to connect better with people then.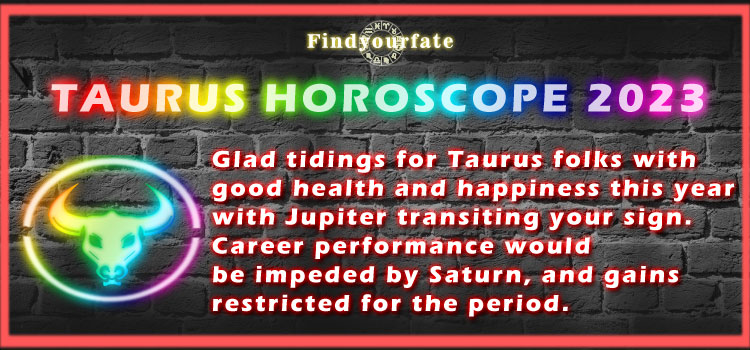 • This year, the planets sure support the professional life of Taurus people.
• They are in for a phenomenal growth this year, thanks to the placement of Jupiter and Uranus in their home sign.
• Happiness and joy abounds at home and domestic life would be just peaceful through the year.
• There would be multiple sources of income for the Taurus natives this year.
• Those into business would find the year beneficial for expanding.
• Be prepared to handle some expenditure owing to your commitments on the social side.
• Natives can plans for making some long term investments this year.
• Mid-year would see a huge spike in your inward flow of financial resources.
• This is a good time to prioritise your ambitions and give take a good start.
• The energy levels of Taurus people would be phenomenal through the year.
• Year 2023 would be a favourable time to reconnect wit your family and friends if you are away from them.
• You would be able to forge some good connections in life this year.
• Natives ought to stay focussed on their relationships for now and get rid of their stubborn nature.
Taurus Love And Marriage Horoscope 2023
Taurus guys might meet with some troubles, unhappiness and temporary separation in their love and marriage as the year starts. However as the year progresses, there would be betterment. Then there would be good rapport with partner with better understanding and commitment from both the sides. The middle of the year might again bring about some disharmony in your love life or marriage. If you give up your stubborn nature, the key nature of Taurus, there would be goodness at home and personal life.
Taurus Career Horoscope 2023
As the year 2023 starts, it would be an excellent period with regard to your work and career prospects. If you are into business, the combined aspect of Jupiter and Saturn on your 7th house of Scorpio would bestow progress. You would get the good co-operation of peers in work place or employers if into your own venture. You stand to gain the good will and advise of elders and authorities in workplace.
Taurus Health Horoscope 2023
The general health and welfare of Taurus natives would be quite good for all this year. You would command mental and physical well being. However be prepared to handle occasional minor ailments. Natives are most likely to be prone to catch some infectious diseases this period, hence be cautious. Till May, Jupiter would be transiting your 12th house and this might bring about some health issues resulting in hospitalisations. But when it transits to your sign in May, things shall change for the better.
Taurus Finance Horoscope 2023
The year would be good from the financial perspective for Taurus people. As the year 2023 starts Jupiter would be in your 12th house of Aries. This would bring about unwanted expenditure on your part. But then in May, it moves over to your Ascendant. This curbs the expenses further. The aspects of Saturn and Jupiter on your 4th house would bring about some expenditure owing to purchase of a home or landed property for Taurus natives.
Taurus Education Horoscope 2023
Taurus students would meet with success in all their academic pursuits in 2023. Jupiter, the planet of knowledge and wisdom would make sure that this period is favourable for the students. Those aspiring for higher studies would also find the time ripe enough for the same.
Taurus Family Horoscope 2023
In 2023, as the first quarter gets completed the pressure in your family life gets released. Then the progress at home would be at ease and simple. You would earn the goodwill of your family members, particularly your parents and siblings. As Jupiter, the significator for family enters your sign in May, there would be a new beginning in your family life. A sense of optimism would prevail around. Jupiter brings about a new meaning for your domestic life.
Taurus Travel Horoscope 2023
Quite a favorable year lies ahead for Taurus guys who are more bent on travelling. All your travels would be gainful and satisfying in the end. The 7th house receiving the aspects of Saturn and Jupiter shall bless you with many short trips as well through the year. The start of the year brings about foreign travel thanks to the position of Jupiter in your 12th house. As Jupiter also aspects your 4th house of domestic life, natives stand to travel to their native place this year.
Taurus Buy/Sell Horoscope 2023
For Taurus natives, the year 2023 is very favourable for buying and selling of houses, landed property and luxury vehicles. However natives are advised to be cautious with their deals. They should be aware of fraudulent deals and false friends. Particularly high value deals should be pursued with double caution for the year.
Taurus Women Horoscope 2023
For Taurus women folk, the year ahead does not forebode much goodness, it would be quite an average if not still less favourable for them. All this year, you need to work hard to keep up with the rat race and sometimes your efforts would not be rewarded amicably. Take this period, to hone your skills and do things that have been long in the backburner. It would be a good time to get married this year if you are committed. But if you are in a love relationship, it might meet with hindrances of sort for now.
Taurus Men Horoscope 2023
Year 2023 promises to be a good period for Taurus men. They are in for some major positive changes in their career field. If you are seeking promotions, pay hikes or relocation then this year provides the same. As the year starts, there might be some initial hiccups in your domestic life, but then soon things would be on track. There would be much warmth and romance in your love and marriage. Natives would also be blessed with good finances all this year. But then the Bull Men are advised to avoid hasty and harsh decisions and to go it slow for now.
Taurus Spiritual Horoscope 2023
Year 2023 promises to be an auspicious year for the religious pursuits of Taurus people. As Jupiter transits your 12th house of Aries till May 2023, you would be more bent towards religious deeds. Then when Jupiter moves to your house, you can pursue social and charity works. Do serve priests, elders and your spiritual teachers well this year. Donate to charity and religious works as per your might and pocket.
Advice For Taurus in 2023
Listen to your intuition or inner voice and follow your dreams and ambitions. Many changes come your way this year, embrace them cordially as they would be stepping stones to success. Do not be stubborn and learn to adapt to people and situations. Myriad opportunities come your way, do not let family interfere with your professional growth. Do not chose play over work as disappointments are in store. Be slow in making personal decisions, harsh temperamental decisions take you no where but in circles.
To watch our videos on all Zodiac Signs:

---
Frequently Asked Question
1. How will 2023 be for Taurus?
There would be phenomenal growth this year, thanks to the placement of Jupiter and Uranus in the home sign.
2. Will Taurus business people survive in 2023?
Yes, the combined aspect of Jupiter and Saturn on the 7th house would bestow goodness in business.
3. Any financial advise for Taurus folks?
Jupiter would be in the 12th house of Aries till May 2023 bringing in unwanted expenditure, beware.
4. How will Taurus perform in love?
Your ruling planet Venus makes sure that you would love and be loved well by partner this period.
5. Any health issues in 2023 for Taurus?
Generally a year of well being is in store for Taurus.
6. What about the prospects of Taurus students in 2023?
They would complete their studies successfully and find suitable career positions.
---
Astrological services