Saturn tends to influence your domestic life and welfare when it moves through Aquarius. Its transit through Pisces affects your love life as well relationship with children if any in your lives.
Coming to the outer planets, Uranus transits through the 7th house of Taurus for Scorpios taking into hands their relationships. Neptune moves in the 5th house of Pisces and Pluto would be transiting through the 3rd house of Capricorn till May/June of 2023 and then shifts to the 4th house of Aquarius.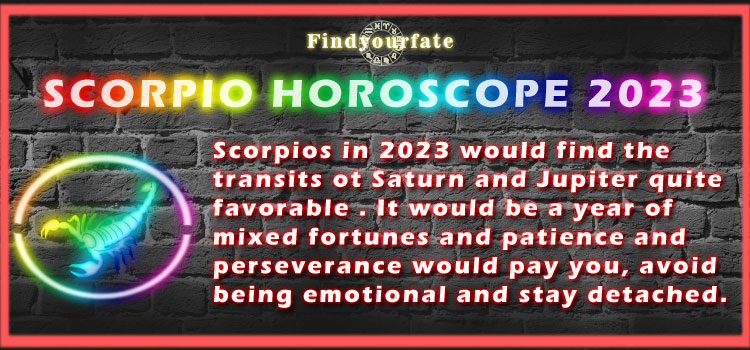 With this annual transits, both the outer and the inner planets stand to interfere with the life of Scorpios.
• This would be a mixed year of fortunes for Scorpio natives.
• This year you would have ample energy, and the guts to go ahead with the plans that you have devised for years.
• The transits of Jupiter and Saturn would be favourable all this year for Scorpio folks.
• Good financial gains and inflow of funds is predicted for Scorpios for the season.
• Your services and businesses would fetch you good money, but then you need to wait for your investments to give fruits, there would not be any immediate returns.
• A sense of stability would prevail in the professional and financial life through.
• Some of your long-lost goals that were eluding you till date would now see the light of day.
• Patience and perseverance and avoiding arrogance would get you still closer to our ambitions.
• A sense of peace and harmony in the domestic front assured for Scorpios in 2023.
• Natives are advised to give priority to their general health and well being all through the year.
• Your behind he scene activities in social life would earn you the limelight.
• This is a period that asks for you to shed off your emotional self and forge good ties in the personal space.
Scorpio Love And Marriage Horoscope 2023
The love and marriage prospects of Scorpios would have a peaceful environment for the year 2023 aided by Venus, the planet of love. As Venus transits through the zodiac sky it would bring about goodness in your love life. Occasionally things might get complicated too. Natives are advised to create bonds that would be ever-lasting. Accept people as they come into your life, shed off your ego and embrace your partner/spouse with love and affection through the year.
Scorpio Career Horoscope 2023
The career and business prospects of Scorpio people would be quite good in 2023. Natives stand to gain due to services as the year starts. However if you need to reap continued benefits, you ought to put in much work and commitment. The transit of Saturn after the first quarter of the year would bring positive changes in your career field. There is ample scope to start your own venture if you have the inkling for the same. Do not forsake the advise of elders and peers in this regard. Scorpios into business would find that partnership deals would fetch good returns. Occasional troubles are in store in the work place too. There might be periods of incompatible relationship with colleagues at times.
Scorpio Health Horoscope 2023
Scorpios would command good health and cheer for the year ahead. As your Ascendant house stands to get the 8th house aspect of Jupiter and the 10th house aspect of Saturn, you would be in good shape. There would be good energy levels and your immunity would also be quite commendable for the seasons.
Scorpio Finance Horoscope 2023
The finances of Scorpios people would be good this year. As Jupiter would be aspecting your 11th house of gains, this would be a gainful period. Inflow of funds would be steady without any cessation. However natives are advised to curb their expenditure that might weight their finances down. They are advised to stay away from speculative deals and all sorts of gambling and high-value purchases for the year. Medical expenditure related to family members on the line, this cannot be avoided. Do have a contingency plan for the same.
Scorpio Education Horoscope 2023
Scorpio students would find the year very favourable for their studies, especially the start of the year. Jupiter would help them to secure admission to studies in reputed institutions of their interest. After the transit of Jupiter in May 2023, Scorpios would be successful in competitive exams. Aspiring students would be placed in a good career course of their interest.
Scorpio Family Horoscope 2023
The year 2023 begins with a heavy heart on the family front for the Scorpios. There would be lots of constraints and delays due to the presence of Saturn in your 4th house of domestic welfare and happiness. Death or health issues in the household would wear your down. However with its transit in March to the 5th house of Pisces things shall straighten out. Your actions would be acknowledged by family members and your ambitions with regard to domestic life slowly takes shape.
Scorpio Travel Horoscope 2023
This would be quite an average year from the travel perspective for Scorpios. The aspect of Jupiter on the 9th house predicts long distant travel for the natives this year. With the aspect of the Moon's Node on the 12th house, they stand to embark on foreign journeys as well. Natives are likely to travel to far off places owing to studies, career and pilgrimage. Some Scorpios would be able to travel to their native land after a long gap this year.
Scorpio Buy/Sell Horoscope 2023
The selling and buying prospects of Scorpio people would be very good this year. Saturn transiting your 5th house of Pisces assures luck and fortune owing to buying or selling. Some natives are likely to buy their dream home or car through the year. After the transit of Jupiter in May 2023, things shall be more profitable in this regard. You would be able to buy much landed property as well through the year. Gains through sale of ancestral property also likely for some Scorpio people.
Scorpio Women Horoscope 2023
The first half of 2023 would be much favourable for Scorpio women. They are likely to face some difficulties, delays and hindrances during the 3rd and the 4th quarter of the year. Natives likely to encounter some troubles in their career through the year. Health also likely to be taken care of, particularly those with chronic issues need to be very cautious. Some women might meet with misfortune if they do not heed to the advise of elders during the year.
Scorpio Men Horoscope 2023
Year 2023 would be a year of mixed fortunes for Scorpio men. In terms of career, they would find the whole period quite challenging. However Scorpio Men are promised with good health and cheer all through the year. Some of them might go on long distant journeys owing to career which would be gainful. A good time predicted with partner or spouse in love or marriage for the Scorpio guys. They would also command good finances all through the year 2023. Patience and perseverance would be the key to survival for Scorpio men.
Scorpio Spiritual Horoscope 2023
Year 2023 would be a good year for the spiritual pursuits of Scorpio people. You would be able to worship your native God and be more inclined spiritually. Seek the blessings of elders and religious leaders as you stand to get their guidance and advise this period. Donate liberally to charity and participate in social works that would give you mental satisfaction.
Advice For Scorpio in 2023
A sense of detachment is advised for Scorpios this season which would diffuse tensions around. A good year is promised, but natives are asked to avoid being hasty and go slow. Patience and perseverance would pay you abundantly through the year ahead. Avoid being emotional in relationship and do not keep any secrets from your partner.
To watch our videos on all Zodiac Signs:

---
Questions To Ponder
1. Is 2023 a good year for Scorpios?
This would be a mixed year of fortunes for Scorpio natives.
2. How will be the domestic life of Scorpios this year?
There would be lots of constraints and delays due to the presence of Saturn in your 4th house of domestic welfare and happiness.
3. Will Scorpios fare well in career this period?
Through the year, you would be periodically asked to prove your mettle in career.
4. When will Scorpio women perform well?
The first half of 2023 would be much favourable for Scorpio women.
5. A piece of advise for Scorpios for the year ahead?
Avoid being emotional and stay detached.
6. As a Scorpio, can I buy or sell property in 2023?
The selling and buying prospects of Scorpio people would be very good this year.
---
Astrological services