It is likely to interfere with your foreign journeys and spiritual pursuits being hindered quite a bit. As it shifts to your home base, the emphasis would be on your general well being and health and natives are likely to suffer health concerns for the rest of the three quarters.
With respect to the outer planets, Uranus traverses the 3rd house of Taurus in 2023, and Neptune moves through your Ascendant all this year. Pluto travels through your 11th house of Capricorn as the year starts and then moves over to your 12th house of Aquarius later on in May-June.
With such a line up of activity in the zodiac sky, your life sure has great things in store for the year ahead, go on and read the effects.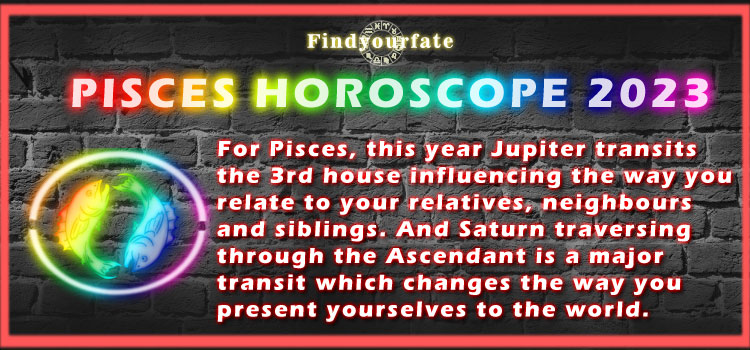 • Pisces folks would have all their life's expectations being met this year, though it would be a period of mixed prospects.
• Jupiter and Saturn ensure that there is good growth and development in your life.
• Your finances would be stable with better inflow of funds predicted.
• However be prepared to handle any unavoidable expenditure that would come through this period.
• Your social life gains momentum and you make new friends and acquaintances.
• Investments and real estate deals you made in yester years would give good returns now and new ones come through.
• Pisces students would have a favourable period with good prospects in their academic aspirations.
• Those of you into business would see good returns and expansion, but then it needs lots of hard work and commitment.
• Health needs utmost care for the period as your immunity would be quite low for now.
• You might encounter troubles in the relationship with partner, good understanding and letting go off of your ego and selfish motives would bring about goodness in relationship.
• Those into services would see good prospects in their career with promotions and relocations probable.
Pisces Love And Marriage Horoscope 2023
For the year ahead, Venus, the planet of love would ensure that you travel your path of love and marriage unhindered. Even long distant relationships would work out in your favour these days. You would be consistently hooked up with a partner and there would be no flirting or straying on the part of the natives. You would regain the love and confidence of your partner after some troubled periods occasionally. Mars also makes sure that your love life or marriage is serene and calm without much fireworks.
Pisces Career Horoscope 2023
Pisces people are predicted to have a good scope in their career field for the year ahead. As Jupiter would be aspecting your 7th house, there would be better compatibility in your work place. You would encounter success in all your professional endeavours this year. There would be a good increase in your income flow and different avenues of finances are possible thanks to you side hustles.
Pisces Health Horoscope 2023
2023 is not going to be a good year for the health prospects of Pisces people. Simply because the planets are not much aligned towards the same. Jupiter would cause occasional health issues for the natives, particularly during the second half of the year. Saturn placed in your Ascendant house after the first quarter of the year would also add up to your health woes. Natives likely to suffer from frequent headaches or migraine and some of you might catch infectious diseases through the year. Be careful and take care of your general health and well being.
Pisces Finance Horoscope 2023
This year would be favourable for the financial side of Pisces people. You would excel in business and services roping in good income flow. However despite the inflow, savings would be a big impediment with unwanted expenditure coming in from all quarters. Rahu or the Moon's node in your house of finances would cause various financial issues across the whole year period.
Pisces Education Horoscope 2023
The year 2023 would be favorable for the educational pursuits of Pisces students. With Jupiter aspecting your 5th house you would get admission for higher studies in reputed institutions. Particularly the last quarter of the year is much favorable for higher studies options. Success in competitive tests and exams would be quite satisfactory, do not expect an overwhelming response. Through the year, students would encounter all hindrances for their forward movement thanks to the transit of Saturn and Jupiter.
Pisces Family Horoscope 2023
This year, your 4th house of Gemini has no major planetary transits and hence family life would be quite mediocre. Saturn and Jupiter would ensure that peace and harmony prevails around. Your ideas towards family and its development would now take shape. Your family life expands with new members coming in by way of marriage or birth. You ought to lead a balanced approach between your personal and professional standing through the year. Saturn brings about stability and maturity in your familial life and takes care of the bare minium requirements needed. And Jupiter would bless you with ease and all comforts in life.
Pisces Travel Horoscope 2023
This year, Pisces people have many long distant travels lined up for them. Saturn posited in the 12th house of Aquarius for the first quarter of the year further substantiates the same. Foreign journeys would be gainful, you stand to improve your knowledge and there would be gains through the same. After the first quarter of the year, Jupiter favors some travels owing to fun, adventure and pleasure. However natives are advised to be cautious during travels during the period, as health concerns and accidents might arise. Also be cautious of your financial deals with respect yo your travel plans.
Pisces Buy/Sell Horoscope 2023
2023 favors the buying prospects of Pisces people in real estate and vehicles. All investments made in this period in high value landed deals would fetch good returns in later years. The second and third quarter of the year favor both buying and selling on your part. Do not buy beyond your means these days as you might not be able to handle the finances. Be prepared to face financial obligations of a bigger proportion coming along your way through the course of this year.
Pisces Women Horoscope 2023
This would be a favourable year for Pisces women with overall goodness assured in all walks of life. Jupiter shall bless you with good finances and prosperity for the period. Travel owing to pleasure and career likely for the more ambitious and adventurous ones. Domestic welfare and happiness assured for Pisces girls as the 4th house is free from afflictions this year. If you are looking for a good job position, then this period you would be landing in a satisfactory position. Certain women are likely to start their own business ventures as well through the year.
Pisces Men Horoscope 2023
For the year ahead, Pisces men would be bringing their creativity to the fore. Your energy would be used in a constructive manner for the betterment of humanity as a whole. This year favors your love pursuits and marriage, there would be goodness with partner or spouse and you two would get still closer together. Those in a growing relationship should clear off from any misunderstandings as it would steer towards troubles. There would be ample opportunities to further grow in your professional field this year. Though there would be troubles and incompatible relationship with higher-ups and peers, you would come out unperturbed. Health is one area where the Pisces men ought to give due importance, this is a year when you ought to kick off bad health habits and stick to a good physical routine and take good food. Your finances would be quite satisfactory all this year, thanks to your professional remunerations all this period. Stay happy and positive and enjoy the good things in life.
Pisces Spiritual Horoscope 2023
The start of the year would be much favourable for doing religious deeds. With Jupiter aspecting your 9th house, you would be adding to your spiritual knowledge these days. You would be more spiritually inclined and would be dedicated to spiritual works for now. Engage yourself in social and charity works and better your faith in humanity. Around the end of the year, some Pisces folks are likely to go on pilgrimages and get the blessings of sages or saints.
Advice For Pisces in 2023
The year ahead might seem a bit tricky and tight, just go with the flow, life is easier and happier. You would be blessed amicably, enjoy the good things, be thankful and share it with others in need. Do whatever brings peace and harmony in different aspects of life. Spread happiness, do one good deed a day and stay secure.
To watch our videos on all Zodiac Signs:

---
Frequently Asked Question
1. How will the year 2023 be for Pisces in general?
It would be a period of mixed fortune for the Fishes.
2. Will my health be good this year, I am a Pisces?
2023 is not going to be a good period for your health prospects because the planets are simply not aligned for this.
3. Could Pisces improve their finances in 2023?
With the Moon's North Node or Rahu in their 2nd house of finances, this would be a tough job for the year.
4. In 2023, what would be it like for the domestic life of Pisces people?
The family life of Pisces people would be mediocre with peace and harmony prevailing around.
5. What's in store for Pisces women this year?
Many Pisces females are likely to start their own dream venture this year.
6. One bit of advise for the Pisces for 2023?
Just go with the flow….
---
Astrological services