Uranus, the planet of transformation travels through the 8th house of Taurus for Libra people this year. Neptune transits through the 6th house of Pisces and Pluto travels from the 4th house of Capricorn to the 5th house of Aquarius during May/June of 2023. These planetary movements across the zodiac sky stand to influence the different facets of life of a Libra person.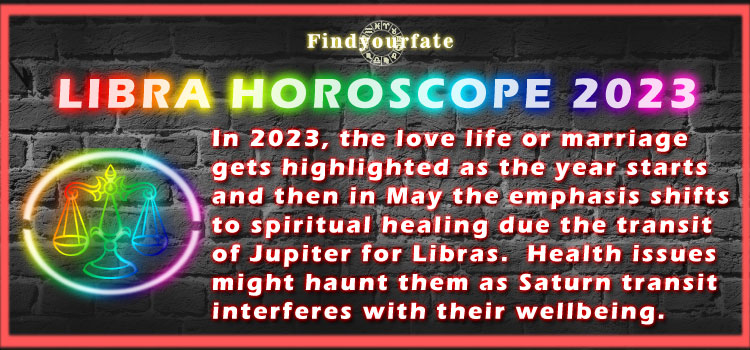 • This is a year when Libra natives would be able to do some groundwork for a secure future.
• Your creative and artistic pursuits are greatly favored through the year and you stand to earn some repute owing to this.
• Those Libras into business would be able to do well this year. Prosperity and happiness assured in their lives.
• Saturn around brings about a sense of stability in this period.
• This year, there would be no major delays and hindrances in your life.
• Be prepared for some surprises though in a positive sense, enjoy life as it comes your way.
• Jupiter in the 7th house would bring happiness in love life or marriage.
• This year would also bless you with good career prospects.
• With better finances, your confidence level rises to a new high these days.
• Libra students are advised not to be too complacent in their works.
• There would be multiple avenues before you to improve your standard of living this year.
• Some luck and fortune on the cards, with ample scope of progress through the year.
• Libra natives would be happy in their domestic life and would command good health all this year.
Libra Love And Marriage Horoscope 2023
For Libras, the year 2023 starts on a positive note in the love or marriage front thanks to the favourable position of Venus, the planet of love. It would bring about a conducive environment which support your love and marriage. If you manage your relationships carefully then many happy events are in the pipeline with partner. Particularly the second half of the year promises goodness in this area.
Libra Career Horoscope 2023
Year 2023 would be quite an average year as far as the career prospects are concerned. There might be inexplicable troubles and hindrances in the professional field for Libras. But then Venus, your ruling planet through the year would give you the guts and resources to stand this tough tide. When it travels though favorable terrain across the zodiac there would be mixed effects in your career performance. Do seek people who might help you to up your professional standing. You cannot be able to see much rewards though this year.
Libra Health Horoscope 2023
The general health of Libra folks would be moderately good for 2023.Jupiter's position in the zodiac sky might cause occasional health issues for the native. Do take care of your health and be cautious, look out for any symptoms in the early stages. Natives with chronic health issues likely to suffer from aggravated condition due to the position of the nodes this year. All through the year, there would be occasional bouts of lows in your general well being.
Libra Finance Horoscope 2023
As year 2023 starts, you would be doing good with your finances. The effect of both Jupiter and Saturn on your 2nd house of finances makes sure that your economic status would be very good. You would be able to save ample funds for tough times. You stand to gain finances through real estate deals and judicious speculation. You would be able to get rid of losses, loans and debts this period.
Libra Education Horoscope 2023
This would be a moderately favourable year for Libra students. However they ought to put in extra work and commitment to come out successful in their studies. Particularly after the transit of Jupiter in April, there is a strong indication for success. The desiring ones would get admission for higher studies in foreign schools as well. In case of competitions, this would be a tough period for many Libras.
Libra Family Horoscope 2023
Till May 2023, you might experience some troubles and doubts in your domestic life. But then Mars, the fiery planet would give you the energy and the will power to assert your position in the household. You would be motivated to go ahead with your familial moves then. From mid-year, you would forge better ties with your family members and should get the good support of parents and siblings for your domestic loves. The planets however might ask you to make some harsh decisions in the family side which might not go well with the rest of the family. You would be able to make them compromise in course of time though.
Libra Travel Horoscope 2023
From the travel perspective, the year 2023 would be good for Libra people. As the year starts, Jupiter would be aspecting your 12th house of Leo from Aries by its 5th house aspect and this would initiate foreign journeys for the natives. You also stand to undertake many short trips as well due to the effect of the Nodes too. Be prepared financially and mentally as most of your travels would happen on a short notice. After the transit of Jupiter at the end of the first quarter of 2023, natives stand to travel owing to professional links. And all your travels would fetch you good wisdom and gains through the year.
Libra Buy/Sell Horoscope 2023
Libras would find the year 2023 quite favourable for their buying and selling prospects. They would be most successful when they intend to buy rather than sell during this period. Do resort to buying or selling only after ensuring financial security and stability. Stay way from any fraudulent or tempting deals as they might land you in a troubled spot.
Libra Women Horoscope 2023
Year 2023 would be a very favourable year for all Libra women. This year, your finances would be very good and your hands would be full of resources to enjoy the good things in life. Also you stand to achieve the ideals that you strive for this period. Libra women would have the chance to meet potential partners through this season. And the lucky ones would be able to tie the knot with their soul mate.
Libra Men Horoscope 2023
Libra Men stand to achieve their long-lasting dreams and ambitions this year. Your purpose in life would be attained as the year progresses. There would be overall prosperity and happiness at home. However Libra men are advised to be quite cautious o their love or marriage matters, as troubles lurk around. In particular, some men stand to get bad name or repute owing to women in their lives. Do not overwork, nor get too much embroiled in social causes, give some time for yourself too. This year would ask for you to make certain important life-changing decisions in the career field. There would be good finances with much inflow during the second half of the year. 2023 would be a great time to hone your skills if you need to do well in profession.
Libra Spiritual Horoscope 2023
2023 would be a good year for the religious deeds of Libra people. As Saturn transits your 5th house you would become more dedicated to spiritual works. The transit of Jupiter after the first quarter of the year also supports your spiritual life. Through the year, your spiritual knowledge and understanding is set to expand to new horizons. This year, you would conduct some religious ceremonies at home for remedial measures. Some natives are predicted to go on pilgrimages that would get the blessings of great saints. Always seek the blessings of parents and elders before your venture into new territory.
Advice For Libra in 2023
For the year ahead, do not heed to the advise of others, listen to your gut feeling. Do not be stubborn with your choices, instead make some leeway for compromises. Though social causes call on you, do spend some time for your personal grooming. Find ways to improve yourself both personally and professionally. Resort to creative pursuits that would reward you in terms of finances and satisfaction.
To watch our videos on all Zodiac Signs:

---
Questions To Ponder
1. Will Jupiter affect Libras in 2023?
Yes, Jupiter transiting the 8th house will bring to focus your financial management.
2. In 2023, will Libra people have good health?
Saturn moving through the 6th house will affect your general health quite adversely this year.
3. How about the career prospects of Libra in the year?
Year 2023 would be quite an average year as far as the career prospects are concerned.
4. What is the influence of Pluto on Libra in 2023?
Pluto might cause some financial disruptions, be cautious.
5. Will love life be good this year?
Your love and marriage would proceed well in 2023, however occasional misunderstanding with partner might surface.
6. Do Libra men fare well in 2023?
Libra Men stand to achieve their long-lasting dreams and ambitions this year.
---
Astrological services