Pluto would be in your 10th house of Capricorn and would be transiting to your 11th house of Aquarius in June. These planetary trends would influence your finances, love, family, career and health for the year ahead.
In this year, Aries folks would be able to revive the projects that had been put on hold earlier. The summer would be very good with Venus, your planet of love residing in your 5th house of love. Natives are however advised to stay alert as there are probable chances of a break-up in relationships. There would be ample resources at hand aided by the transit of Jupiter and Uranus through your 2nd house of finances. Health would be satisfactory and your social life would be at its best all this year.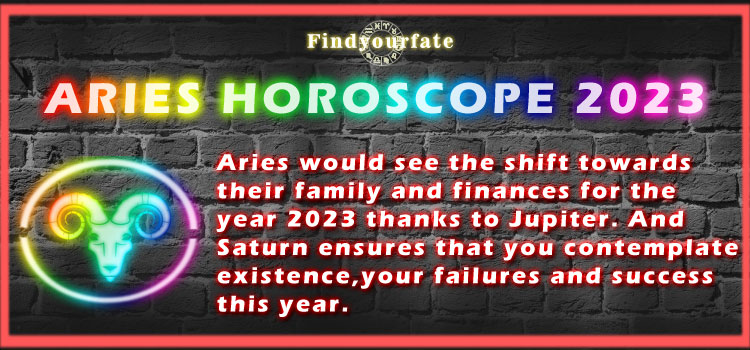 • This is going to be a very special year for Aries people in many ways.
• Even malefic planets stand to favour you through the year.
• There would be career goodness thanks to the effect of Saturn.
• Your finances would be made ample by the presence of Jupiter in your Ascendant.
• Students would have a mixed year ahead and studies abroad are much favoured.
• Domestic life stands to get affected owing to the influence of Saturn, health of family members stand to get affected.
• The combined effects of Saturn and Mars would be bring some stress in your marriage or love relationship, but then things might improve during the last quarter of 2023.
• Aries natives likely to have fatigue and mental stress for the year and might have issues regarding the stomach as well.
Aries Love And Marriage Horoscope 2023
This year your love starts to bloom. Potential partners try to please you and make acquaintance with you. The power of seduction around you would be much more when compared to last year. You are fiery and your passion attracts partners. And the spring and summer would present wonderful period for your love prospects. But then around the middle of the year, Aries natives would be asked to take a step back with respect to their marriage or love prospects. This is a time when you ought to avoid being impulsive and take some tough life decisions. Then as the year progresses, you can get back onto your saddle once again. Lost relationships and love would return for some folks if you have been genuine in that relationship. It would be a smooth travel in your love path from then on.
Aries Career Horoscope 2023
Jupiter, the significator for our profession or career would be in your own sign of Aries as the year starts and in May 2023 transits to your 2nd house. Hence there would be a mixed fortune on your professional life through the year. You ought to be on your toes all this year to succeed in your career. This is not a time to ask for a transfer, relocation nor ask for a promotion or pay hike. Stick to your position and work according to your plans. The fruits can be relished around the end of the year.
Aries Health Horoscope 2023
As the year 2023 starts, Aries people would be having average health status. Saturn around might increase the health concern if you are suffering from a chronic issue. Jupiter posited in your Ascendant however restrains the effects of Saturn and hence there would be no major impacts on life. After the first quarter of the year, the planets favour good health and cheer for Aries folks. You would command happiness, physical and mental alertness. Natives would have good control over their diet and shall follow good routine tasks. It would be good if you stay away from spicy foods and foodstuff that increase your chances of infections.
Aries Finance Horoscope 2023
This year would be very optimistic for Aries people from the financial perspective. This is because for the year, Saturn transits through your 11th house of Aquarius. Hence there would be a good blessing of finances coming your way. Also Jupiter, the planet of expansion and material resources is favourably posited for you that there would be no dearth of funds and you stand to experience gains all round the year. Some folks likely to see inflow of funds by inheritance or legacy. Landed property and real estate deals would also fetch you good returns for the year.
Aries Education Horoscope 2023
The first quarter of 2023 would be a period of mixed fortune for Aries students. During this time , they are asked to put in hard work and commitment. Then for the second quarter there might be some adverse situations that would mar their study prospects. Keep working. There would be multiple things that deviate you from focus on studies. The last quarter of the year however promises success in competitive exams. The chances of Aries people going for higher studies abroad would be better this year and they would be able to perform well too in foreign soil.
Aries Family Horoscope 2023
As the year 2023 starts your family life would be suo- motto as the previous period. There seems to be not much advance here. Then when Saturn, the planet of restriction moves from your 11th to the 12th house there might be further restraints on the way you relate with your family. But then Jupiter in your own home and later moving over to the 2nd house of family and its welfare there would be light at the end in this arena. It helps you to put the focus back on your family life and helps you to make up for the lost time. Through the year, you would be able to keep your promises to your familial relationships.
Aries Travel Horoscope 2023
The beginning of the year would be very auspicious for Aries people in terms of their travel prospects. There are good chances of foreign journey to distant places as Jupiter is well placed in your 12th house of foreign trips. The middle of the year predicts travel due to pilgrimage or visit to home land for people in far off places due to the 9th house aspect of Jupiter after its transit to your Ascendant. Be careful while travelling as there is the possibility of accidents and catching an infection during these travels as Rahu, the Moon's north node would be transiting inauspiciously for you.
Aries Buy/Sell Horoscope 2023
Year 2023 would be moderately favourable for buying and selling of high value property or possession. The second half of the year would give you a good price if you are intent in selling landed property. The above period is also favourable for Aries natives to make property deals. However much effort and commitment would be needed on your part to buy or sell a property through the year. Beware of false associations and fraudulent deals when you are buying or selling.
Aries Women Horoscope 2023
The best part of year 2023 would be the first quarter for Aries women. As your 11th house of gains is well placed you will command good finances this year. Around the last quarter there are prospects of marriage with a partner you love. And the married woman would find the last few months quite favourable for conceiving a child. Particularly women folk into own business ventures rather than the services would perform well during 2023.
Aries Men Horoscope 2023
The professional life of Aries Men would be very special in 2023 thanks to the effects of saturn around. Aries guys who are studying or into higher learning would have mixed results for the efforts. Marriage and love prospects of Aries Men would be dissatisfying for some of you. Aries Men are asked to strike a good balance between the professional and personal life for goodness on both the sides. The Men are also called towards maintaining their general health these days. Your finances might overshot your budget plans, hence keep your expenses under check for the year. Aries Men in particular are advised against being harsh, and taking aggressive decisions and to be patient at all times.
Aries Spiritual Horoscope 2023
Beginning of the year would not be much favorable for religious deeds for Aries personalities due to the good placement of Jupiter in your 12th house. However as the year moves on there are chances of pilgrimages, holy dips and getting the blessings of great saints. Mid-year would prove to improve your spiritual knowledge with Jupiter aspecting your 5th and 9th houses. Always seek the good blessings of your parents and elders in all your endeavours. Donate your might to social causes and charity. Wear your lucky gemstone close to your skin.
Advice For Aries in 2023
Aries people are advised to start acting on their ideas and ideals this year. Put your projects back on track. Plan ahead to meet with success through the year. You have good time in almost all walks of your life, but then do not rush over on things. Take care of your emotions and build good relationships. Stay away from secrets this year, it might take a toll on your marriage or love.
To watch our videos on all Zodiac Signs:

---
Questions To Ponder
1. How will be the finances of Aries in 2023?
Finances would be very good due to the presence of Jupiter in the Ascendant house.
2. Will the relationships of Aries survive for the year?
Saturn and Mars together would bring some stress in the relationships, but things might improve during the last quarter of 2023.
3. How will be the career fortune of Aries in 2023?
Saturn placed in the 10th house is favorable for goodness in career.
4. Is there any luck in 2023 for Aries?
Yes, Jupiter transiting the 2nd house would bless Aries people with good finances through the year.
5. Any travel prospects for Aries born natives?
Jupiter placed in the 12th house promises foreign trips for Aries people.
6. Any advise for Aries Men for the year?
They should avoid aggressive decisions and be patient.
---
Astrological services