A Virgo man and a Pisces woman do not seem to have better compatibility when they are involved in a relationship.
This is because she would be too emotional and sensitive which cannot be fathomed easily by the Virgo guy. He is more practical and an introvert to sway to her whims and fantasies.
This would be a very challenging relationship. The orderly Virgo cannot get in line with the chaotic Pisces female. They are just poles apart.
There would be constant friction here and it does not matter if one of the them ultimately ends up mentally devoid.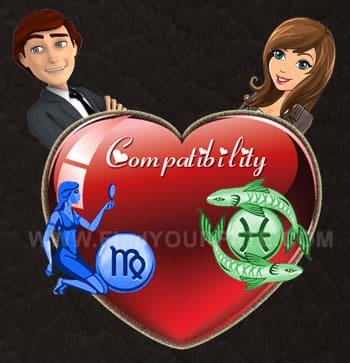 Famous Virgo-Pisces Couples
• Richard Gere and Cindy Crawford

• Trisha Yearwood and Garth Brooks

Compatibility for Romance
The Virgo man and a Pisces woman have much romance but then it seems that there would not be much compatibility here. There would be just yearnings form both the sides. Also sometimes it seems that the relationship is on fire with much passion involved but then it is not. It is just emotions that has gone beyond control that would mar positive growth in the relationship.
Compatibility for Friendship
The Virgo guy and the Pisces girl make good friends. There would be better compatibility between then in the comradeship as well because they are the only people in the universe who can understand them better. It would be a crazy and jolly friendship to sum up. Nobody else is going to be friends with this pair.
Compatibility for Marriage
The Virgo male and a Pisces female do not have much in common to share a compatible marriage. But as opposites attract, there would be some initial attraction that would wax and wane with time. The Pisces male would be more dependent on the Virgo guy who has to do everything in the household and this might result in frictions at home. This would not be a healthy relationship and it grows worse with time and children around to look after.
Compatibility for Sex
A Pisces girl and a Virgo guy also have not much compatibility when sex is concerned. Though both are known to be individually emotional and romantic, sex would be a forbidden area for the duo. There seems to be no effort by both to keep the other one engaged or satisfied here.
The End game
This is one combination where the end was visible even when it started. But it would be a laborious task for the separation. Both would be making charges and accusations on the other. There would be many denials and false propaganda that the unwinding takes a lot more time and effort from both the sides. It would make them think that they better had dragged on the relationship for good.
www.findyourfate.com Rating 5/10
Gemini Cancer Leo Scorpio Scorpio Sagittarius Capricorn Aquarius Pisces Aries Taurus