A Taurus woman and a Gemini man are not much compatible for life. The Taurus woman yearns for stability while the Gemini man is impatient and reckless. The Gemini male is flirtatious too spoiling the relationship further.
The Taurus woman does not have an adventurous spirit and does not explicitly show her passion. Hence adjustments are difficult and the relationship breaks down as quickly as it started.
But if the Taurus female has a central point to hold and the Gemini man can provide variety to life then this duo can survive the tides of life.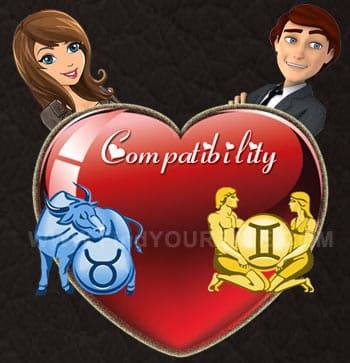 Famous Taurus-Gemini Couple
• Natasha Richardson and Liam Neeson
• Queen Elizabeth II and Prince Phillip
• Melania Trump and Donald Trump
• Carmen Electra and Prince
Compatibility for Romance
There would not be much romance involved in this combination of a Gemini man and a Taurus woman. The Gemini man lacks the practical side to romance in life. But his financial standing might help bring some romance and mood in the Taurus female indirectly. The Gemini man's unpredictable nature and mercurial nature would stimulate the earthy Taurus to a certain extent on this note.
Compatibility for Friendship
A Taurus woman and a Gemini man make good friends in life. Gemini does most of the communication and teaches her about new things in life. He also has got the knacks to pull the Taurus girl out of her couch. Both maintain their own privacy as well and hence the going would not be that tough in this combo.
Compatibility for Marriage
There is a good level of compatibility between a Gemini man and a Taurus woman when it comes to marriage. The Taurus female knows how to harness the Gemini man. The only drawback is that the Gemini man does much of the talking like a chatterbox which might annoy the Taurus woman at times.
Compatibility for Sex
Sex would be a lot more interesting in this combination. The Gemini man teaches his Taurus counterpart the tricks of the game, the different erotic zones , the different moods, the different postures and the like. The Taurus woman gets seduced by the Gemini man easily here in this act.
The End game
When things turn rough, the Gemini man makes all efforts to right the things up. However the Taurus female would be stubborn enough to a say a big "no" to him. He would be presenting umpteen excuses but ultimately the Taurus female has the last say here.
www.findyourfate.com Rating 8/10
Cancer Leo Virgo Libra Scorpio Sagittarius Capricorn Aquarius Pisces Aries Gemini