Initially there would be a good level of attraction between a Taurus man and a Gemini woman. However the long term prospects depends a lot on the individuals concerned and their inherent nature.
The Gemini woman's energy and self-confidence would be liked by the Taurus male but he should make sure that he gives her the wanted freedom without smothering here. Both have focus on their personal lives and their immediate circles.
Their life would be sizzling if they stay focused on the relationship. The Taurus male should take care of the domestic needs and she the social needs of the household.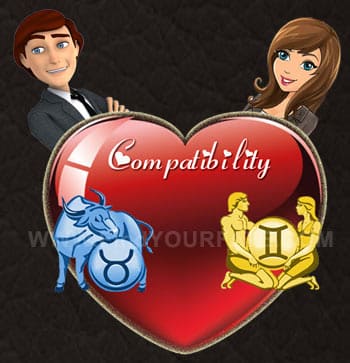 Famous Taurus-Gemini Couples
• Malcolm X and Betty Shabazz

• Enrique Iglesias and Anna Kournikova


Compatibility for Romance
There would not be much romance found in this combo but the Gemini woman makes sure that she gets enough romance out of the not-so-romantic bull by his materialistic deeds. Her emotional make-over's easily captivate the Taurus male to yield to her wishes and fantasies. The Taurus male is very possessive while the Gemini woman is a social bird who might invite the wrath of her partner at times in this area.
Compatibility for Friendship
These two make good friends for life as they are compliments of each other in their interests and desires. The Gemini girl has good ideas and the Taurus male makes sure that he gives a practical twist to her ideas. They like to share their time and fun together in a positive atmosphere.
Compatibility for Marriage
The Taurus male and the Gemini female are very much compatible for a good marriage. Both are very much devoted to the institution of marriage. They take all efforts to create a stable marriage and enjoy their life of togetherness.
Compatibility for Sex
Sex is one thing that keeps this couple intact for ages. Everything else in life matters second to them. They find solace when they are in each other's arms and hence sex is a great way for improving their compatibility level to a greater extent.
The End game
A Taurus man and a Gemini woman stay together for life without much rifts. But the end comes when the Gemini woman becomes more of a spendthrift than what the Taurus partner can afford or becomes more of a social bird which affects the possessive nature of the Taurus partner.
www.findyourfate.com Rating 8/10
Cancer Leo Virgo Libra Scorpio Sagittarius Capricorn Aquarius Pisces Aries Gemini