Though initially the relationship between a Sagittarius man and a Capricorn woman seems to be a smooth sailing, with time there would be commotion. They are opposite in nature and hence only compromises and commitment shall help the duo to survive in the relationship. The Sagittarius Man is not one for commitment ad this might make the Capricorn girl feel insecure and he would not like her strong and extrovert nature. But then both are skill-oriented in their own worlds. The Sagittarius man's optimism and the Capricorn girls' intellect just compliment each other. Together they would strive to enjoy the good things in life. Usually this combination consists of personalities belonging to different class/ age/cultures.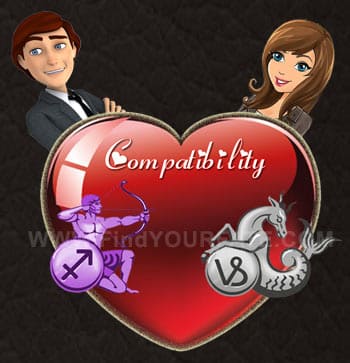 Famous Sagittarius-Capricorn Couples
• Frank Sinatra and Ava Gardner

• John Kennedy, Jr. and Carolyn Bessette Kennedy


Compatibility for Romance
The compatibility for romance would be missing between a Sagittarius man and a Capricorn woman in a relationship. The reason being both have other important tings to do in life. Though Capricorn might like to bring in some romance into the relationship, The Sagittarius guy just woos it away.
Compatibility for Friendship
The Sagittarius male and the Capricorn female are most compatible when they are engaged as friends in life. Both have many interests in common that they stick together. They like to do projects and ventures together and come out successful that their comradeship is one of a marvelous relationship.
Compatibility for Marriage
The compatibility for marriage between a Sagittarius guy and a Capricorn girl would be just great. But then the Sagittarius man should be given ample freedom for his adventure by his Capricorn partner. The marriage grows or matures with life and this is one of the marriage that is likely to survive the test of time. The duo know what they are up to and where a compromise is needed and hence the going would be easier. They know where they are headed together.
Compatibility for Sex
Sex would be a much compatible affair between a Sagittarius man and a Capricorn woman. Though Capricorn would have some inhibitions and is a novice here in this area, the Sagittarius guy takes it as a challenge and teaches her the nuances and tricks of the trade. Sex would be taken as a means of mutual love and affection that helps them to remain committed for long.
The End game
Usually this relationship lasts long but then if they mutually decide to part ways then they would have mutual respect of each other. Even after the spit there would be better co-operation on sharing common resources. It would be a win or a loss for both owing to the separation.
www.findyourfate.com Rating 9/10
Gemini Cancer Leo Virgo Libra Scorpio Capricorn Aquarius Pisces Aries Taurus