The Gemini man and the Sagittarius woman initially seem compatible with their outgoing and freedom-loving personalities. But with time she feels insecure by his intellect.
Both the Gemini man and the Sagittarius woman have bad temperaments that make them lock horns now and then. Being opposite signs there is a sense of attraction between this duo. Their out-going nature makes sure that both of them are rarely together jus breaking all chances of head-ons.
The Sagittarius girl is one of moral values while a Gemini guy is a trickster waiting to lure others for a ride. This would bring in occasional incompatible issues in the relationship. But then they make a happy home for children, elders and relatives in the family.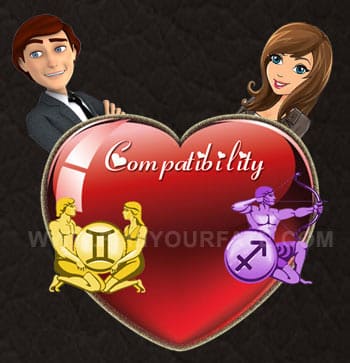 Famous Gemini-Sagittarius Couples
• Paul Bettany and Jennifer Connelly


Compatibility for Romance
There would be some romance now and then with this duo in life. Though Gemini is so romantic he cannot sell this off to his Sagittarius counterpart that easily. She on the other hand has a great passion for life and this might linger on with her Gemini partner for long.
Compatibility for Friendship
The Gemini guy and the Sagittarius girl make great friends for life. Sagittarius woman is an adventure-loving woman and loves to do out-door activities. On the other hand the Gemini guy is more fond of mingling with the higher-echelons of the society. Together they get mutual interests being met. They love to linger on together for long in life.
Compatibility for Marriage
There would be better compatibility in marriage between a Gemini man and a Sagittarius woman. But then both of them should not stay together for long. They are social animals and include friends and relatives in their lives. However both should have a control over their financial spending else they might land up bankrupt. The pair is found to forgive and forget easily and hence there would be bliss in this relationship.
Compatibility for Sex
There would be much compatibility in sex for this pair. For the Sagittarius woman sex is a natural thing next to any other physical form of work out. Gemini would bring in innovation and variety to this act. They love having this as often as possible. They would experiment new moods, new moves, new places and new gadgets to aid them in the act.
The End game
When the Gemini man and the Sagittarius woman decide to part ways it would be just a casual bye-bye. There would be no confrontations of sorts. They would just remain friends for life with no grudges. No tears and no pains are found.
www.findyourfate.com Rating 7/10
Cancer Leo Virgo Libra Scorpio Sagittarius Capricorn Aquarius Pisces Aries Taurus