There would not be much compatibility between a Capricorn woman and an Aquarius man in a relationship. Much love and commitment cannot be seen though they would get along well as friends in life. The Aquarius man would be an extrovert and a flirt which would not be taken well by the conservative Capricorn girl. If they agree to disagree then there would be goodness in the relationship. Here with this duo, the Aquarius man gives the vision and the Capricorn girl brings it down to reality. A hidden bond just binds them together despite their differences in opinions. They just complement each other in life.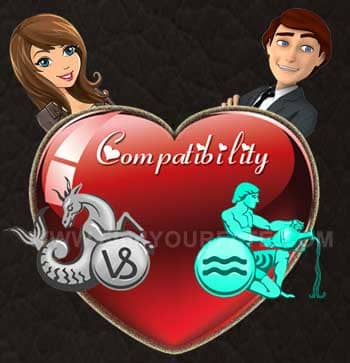 Famous Capricorn-Aquarius Couple
•Carla Bruni-Nicholas Sarkozy
•Helena Christensen-Michael Hutchence
•Loretta Young-Clark Gable
•Christy Turlington-Edward Burns
•Ali Wentworth – George Stephanopolous
Compatibility for Romance
Little compatibility for romance exists with this pair though both are not that much romantic in life. Though they are strict disciplinarians they like to flirt and romance around with their partner at times. The Aquarius man would be more or less a detached character devoid of much passion or romance in life. Capricorn is also found to be a feeling-less girl in a relationship. Hence the element of romance and passion would be missing here.
Compatibility for Friendship
The Aquarius man and the Capricorn woman make good friends for life. They make an ideal team when it comes to friendship, they share commitment and an intelligent exposure. The duo have a bigger perspective of everything about life. Mutual production and leadership qualities are found to be in both - a pre-requisite for being good friends in life. This combination makes good companions in work rather than in play or leisure.
Compatibility for Marriage
The Capricorn woman and the Aquarius man make a great compatible combination for marriage. Together they are known for a committed and integrity-oriented relationship. This combination usually gives a long term marriage where commitment to partner would be the keyword. The Aquarius man brings newness to the relationship while the Capricorn woman is good in re-tuning the relationship according to circumstances and the environment around. This marriage usually proceeds on a slow but steady pace. Quality time would be spend together and both take equal responsibility in bringing up the family. Teamwork would be appreciated here.
Compatibility for Sex
Sex would be a more earthly affair here with this pair than with any other pair in the zodiac combinations. The Aquarius guy feels more at home while having sex with a Capricorn woman than anybody else. He is known to supply a regular dose of sex to soothe her sensual needs. There would not be any new-ness here.
The End game
When the Aquarius guy in this relationship has had enough of it he just distances himself off from the Capricorn woman without losing his temper. But once he had made up his mind to call it quits, then there would be no going back. The Capricorn girl would be totally caught unaware in this act as the Aquarius man would have yielded to her every beck and call earlier.
www.findyourfate.com Rating 8/10
Gemini Cancer Leo Virgo Libra Scorpio Sagittarius Aquarius Pisces Aries Taurus