A Capricorn man and a Capricorn woman share a compatible relationship in life. In this combination there would be perfect order everywhere, peace would prevail at the household. Everything would be planned and executed to perfection. Both would be conservative and follow the rules to the book in life. Marriage would be a holy institution for them and together they would work for the welfare of those surrounding and dependent on them. Conservative thoughts and ideas would be maintained between this duo and compatibility prevails by default.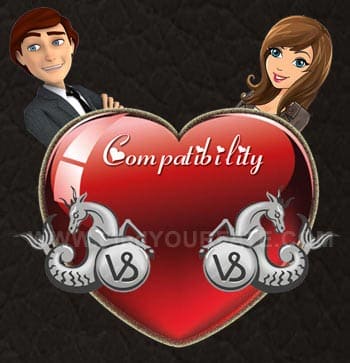 Famous Capricorn-Capricorn Couples
• Jude Law and Sienna Miller

• Orlando Bloom and Kate Bosworth

• Cary Grant and Dyan Cannon

• Tiger Woods and Elin Nordegren
Compatibility for Romance
A Capricorn man and a Capricorn woman have greater compatibility when romance and passion in the relationship are considered. There would be much romance here with this couple. A lovey-dovey couple watching the sunset together with their hands held tight would be the perfect picture of this duo. But then not much passion is to be found here as both of them are fully grounded. Possessiveness would also pop in and out at times here.
Compatibility for Friendship
A Capricorn male and a Capricorn female just make great friends for life. Their love of conservative thoughts, order and discipline just binds them together. They would be greatly devoted to each other and hence friendship would be a very compatible affair here.
Compatibility for Marriage
When a Capricorn male and a Capricorn female are into a marriage it would be just bliss with perfect synchronization and it would be just a marriage made in heaven. Both follow the rule-books well and there would not be any straying or back-stabbing that peace prevails and prefect compatibility is achieved.
Compatibility for Sex
Sex is something that binds a Capricorn guy and a Capricorn girl together in life. The intention of getting married would be to get more dose of this commodity. Sex takes the centre-stage in this combination and there would be no dearth for compatibility here.
The End game
When a Capricorn man and a Capricorn woman in a relationship intent to end the relationship then it would have been a mutual decision. Much dignity and goodwill would be found during the split. Mutual assets would be divided in a very business-like fashion. There would be no grudges on either side.
www.findyourfate.com Rating 10/10
Gemini Cancer Leo Virgo Libra Scorpio Sagittarius Aquarius Pisces Aries Taurus