The compatibility between a Cancer woman and a Virgo man would be great. As both are interested in security they stick on despite hindrances in life. Both are loyal, sincere. They know how to express their love for the other that the other one does not find being left un-attended. The flip side is that both are neurotic and worrying personalities that the relationship seems sullen and moody all the time. This is one combination to avoid as at-least one of the duo should be a strong-hearted personality for the relationship to thrive on a positive note.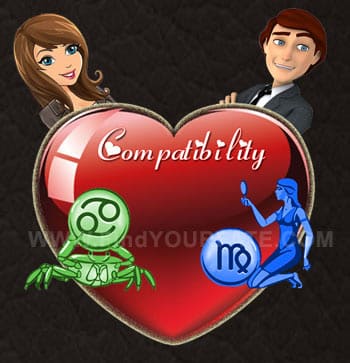 Famous Cancer-Virgo Couple
• Rishi Kapoor and Neetu Singh
Compatibility for Romance
There would be better compatibility in romance between a Cancer female and a Virgo male. The Cancer girl sure needs someone to rest her shoulders on and the Virgo guy would just be the right one. He would be able to reassure her and give her the much needed security in life. But then there would not be too much of romance or passion in this relationship that is displayed.
Compatibility for Friendship
The Cancer girl and a Virgo guy just make great friends in life. Both are much concerned about the smallest things in life that life would be bliss for this combo. They just love to devote their time to each other. There would be better understanding as well.
Compatibility for Marriage
There would be average level of compatibility between the Cancer woman and the Virgo man. But then there would be constant worries regarding financials, security and the like. The Virgo guy has to make all attempts to pacify and make up with the emotional Cancer girl. There would be mutual happiness in the small things in life. Slowly and steadily the relationship progresses on a positive note.
Compatibility for Sex
The Cancer woman and her Virgo partner are very much compatible in having sex. It would be a comforting factor for both. This is the only act where their mutual tensions and worries are not found. The Cancer woman has a motherly sway over her partner and he in turn approaches her with masculinity.
The End game
When the going gets tough the duo find it difficult even to separate from each other. They cling on to each other like parasites. They do not find security anywhere else in life. The Cancer girl would be all emotional and tears but the Virgo guy should handle this like a man of steel.
www.findyourfate.com Rating 6/10
Gemini Leo Virgo Libra Scorpio Sagittarius Capricorn Aquarius Pisces Aries Taurus