The compatibility between an Aries man and a Pisces woman depends on how both of them agree to disagree. A lot of adjustments would be needed here.
The Pisces female finds a good shoulder to cry with the Aries man. He in turn finds her dreamy ideas simply irresistible. But sometimes tempers run wild when the Pisces woman begins her acidic talks.
Being complementary signs the relationship would work out well when the Pisces woman takes the Aries man as her hero and he in turn fights hard to secure his partner for life .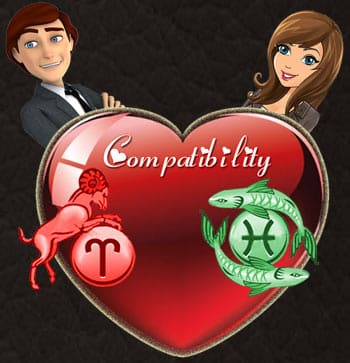 Famous Aries-Pisces Couples
• Zach Braff and Drew Barrymore


Compatibility for Romance
This is one of the most romantic pair among the zodiac signs. Both the Aries and the Pisces are highly passionate and sensuous to the core. Hence cuddling in the public, a romantic kiss here and there and constant hugs would be a common sight with this duo. The need for passion of the Aries man would be humbly met by the Pisces woman with out fail.
Compatibility for Friendship
The Aries man and the Pisces woman have mutual interests where their energies coincide but yet they do not have much compatibility when it comes into the domain of friendship. Mutual admiration would be there and they both just gel together easily but still there would not be much commitment needed for a friendship deal.
Compatibility for Marriage
There would be a high level of compatibility with this duo when it comes to marriage. It would be a lifetime commitment for both the sides. The Pisces would be a Goddess of love and the Aries man would be a God of all giving in the marriage.
Compatibility for Sex
For this couple sex would be a coming together of mind, body and soul. it provides a strong point for the relationship to continue for life.
The End game
A Pisces woman and an Aries man are never known to break the relationship. If circumstances beyond nature make them separate then would be a distress for both the souls. They make all efforts to stay intact. Each one brings out the gentler side of the other and hence the parting would be a big burden or loss for both.
www.findyourfate.com Rating 9/10
Gemini Cancer Leo Virgo Libra Scorpio Sagittarius Capricorn Aquarius Aries Taurus