This is one of the best combination for love among the zodiacs. A greater chemistry exists between the two.
There would be much fun, excitement and love involved in this relationship. Both are extroverts, out spoken and emotional as well and hence the going gets easier.
Both being fiery signs, at times tempers run up high as well marring the direction of the relationship.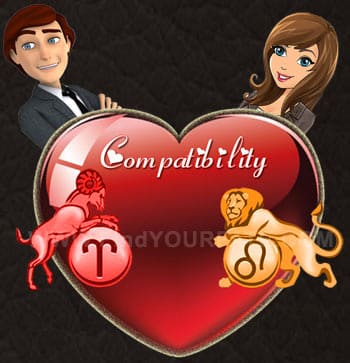 Famous Aries-Leo Couples
• Jesse James and Sandra Bullock,

• Andrew Lloyd Webber and Sarah Brightman,

• Al and Tipper Gore,

• Warren Beauty and Madonna,

• Gabriel Aubry and Halle Berry


Compatibility for Romance
This duo experience the best of romance in life. It would be a life of fantasy for this duo. There would be frequent sensuous moves, kissing, hugging, and the like and they would not be bothered by the outside world when the passion of fire has been lit, as both fall under the fire sign.
Compatibility for Friendship
The Aries man and the Leo woman make good friends for life. They have many activities and interests in common. The mutual trust and loyalty drives this combination towards a better comradeship in life.
Compatibility for Marriage
This is a good combination for a compatible marriage. Both are on common grounds and hence marriage and its aftermath would be a bed of roses for this duo. They take marriage as a greater source of strength and mutual comfort.
Compatibility for Sex
Sex comes naturally for these two. They are very comfortable in this act and take it just like any other sport where you need a partner to team with. Much fore-play, and emotions would be involved in their love-making. Sex would be a source of rejuvenation to the mind and soul for both of this combination.
The End game
When things go wrong in this combination, each one does not hesitate to say that they had the worst partner in life, though they would have had a good time.
www.findyourfate.com Rating 10/10
Gemini Cancer Virgo Libra Scorpio Sagittarius Capricorn Aquarius Pisces Aries Taurus