This is a combination where life would never be boring and dull. Life would be packed with adventure, fun, frolic and challenges.
There would be occasional arguments but things soon settle down as and when it started.
The Gemini woman keeps the Aries man busy with her constant takes and he would keep her on her toes always. Together there would be lot of fun involved here.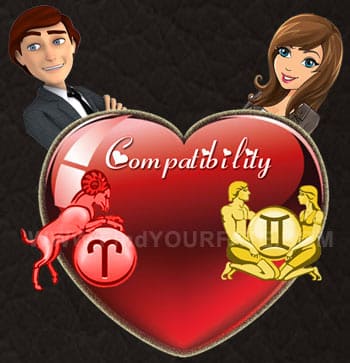 Famous Aries-Gemini Couples
• Charlie Chaplin and Paulette Goddard

• Warren Beatty and Annette Bening


Compatibility for Romance
Aries is noted for its great romance and hence there would be much romance and thrills involved with this duo. The Aries man loves to chase and a Gemini woman likes to run like a female deer. This would be more than a romantic movie in the making.
Compatibility for Friendship
This Aries man and Gemini woman together do not make compatible friends for life. They are two different entities and do not get along easily on a social theme. Lasting friendly relationship is not possible here with this combination.
Compatibility for Marriage
This is a good combination for a compatible married life. Both honor and respect each others' freedom and wit and hence the going gets easy.
Compatibility for Sex
Sex would be fast, furious with lots of fun with this duo. Both being extroverts like to have it just about anytime and anywhere and are equally sensuous. They also like to flirt around and share obscene texts while out of reach just to keep the inner fire burning.
The End game
This relationship can come down easily and fast as it started. Both would not be bent on cleaning up the mess they created together once it has been understood that the party is over on both the sides.
www.findyourfate.com Rating 6/10
Cancer Leo Virgo Libra Scorpio Sagittarius Capricorn Aquarius Pisces Aries Taurus