Career
2014 would be generally a hard year for Ox people in the career front. There would be stiff competition all through the year. Survival seems to be a hard task. They are advised to make good choices before they venture into new job opportunities. Much hard work and commitment would be needed to get going against the tide that might befall them.
Love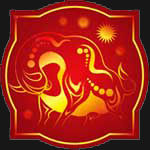 It would be an average year in 2014 for Ox personalities in the love front. They should be able to trust and be loyal to their partners. Though singles shall have the opportunity to settle down with partners they would not be that trustworthy. It is best to avoid getting into new relationships for the year ahead.
Finance
Ox natives shall feel the pinch in the financial front in the year 2014 of horse. Investments shall not give good returns. Beware of losses lurking round the corner as well. Make sure that you spend only on essentials and do not indulge in extravagant spending for the year ahead. You need to take financial decisions that would have repercussions in the years to come.
Health
Stress and strain in the professional field shall have good returns in your health front during the year 2014. You need to have a balanced diet and a strict exercising regimen to avoid major health scares for the year ahead. Though there would be some unwanted medical expenditure, commitment to better habits shall give you good reward in the health front.