Saturn likely to favor many short journeys during the first quarter of the year and might bring about troubles with siblings if any. Then its transit through the 4th might impact your domestic life and restrict and discipline in the family area.
As for the outer planets, Uranus travels through the 6th house of Taurus for the whole year and Neptune transits through your 4th house of Pisces. Pluto would be in the 2nd house of Capricorn till May-June 2023 and then hops over to the 3rd house of Aquarius. 2023 would be quite a packed period with all the planets zipping through the zodiac sky and they stand to impact Sagittarians in a great way. Read on for more on the prospects for the year.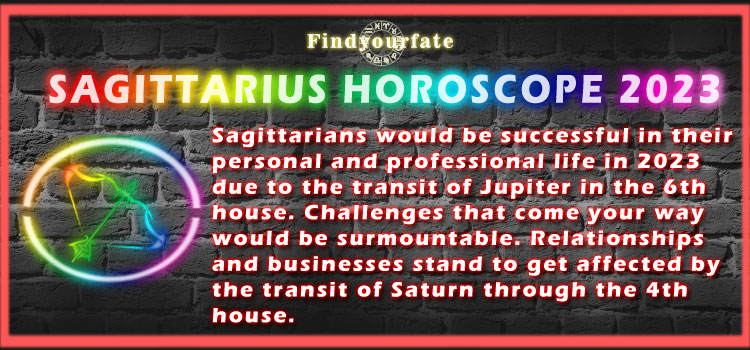 •  This would be a favourable year for those born with their Sun in Sagittarius.
•  Myriad opportunities come for you, be prepared for shocks and surprises as well.
•  Overall prosperity assured and there would be success in all your endeavours.
•  This would be a very good period for Sagittarius students, they would be able to achieve their ambitions.
•  Much luck and fortune on the cards for Sages all through the year.
•  Loaded with ample energy, Sagittarians would be able to pursue adventurous activities as always through the year.
•  Life would go on as planned and there seems to be not much hindrances for you in 2023.
•  Career achievements are predicted for the period, and your finances would be satisfactory.
•  Sages into business ventures might feel the heat this year, but then commitment and consistency would bail them out.
•  Health would be an area where neglect would be noticed, be conscious of your health regimen for the year.
•  Your wealth and financial standing would increase this period, thanks to favourable planets around.
•  Natives are likely to encounter some troubles in relationships, stay away from unwanted arguments and misunderstandings this year.
Sagittarius Love And Marriage Horoscope 2023
The first half of the year 2023 would be a favourable time for your love pursuits when there seems to be not much constraints. As the year progresses, you would see that your passion and feelings towards partner increase. Then around mid-year there might be some marks of dissatisfaction and disappointments with partner, bringing about tension around resulting in unhappiness.
Sagittarius Career Horoscope 2023
This year Saturn might hinder and delay your career prospects. Till around the middle of the year, you might face problems and obstacles hindering your forward movement. However if your perform, you stand to advance without much efforts. You would stay optimistic and adventurous and this would be taking you places through the year. The second half of the year would be quite eventless from your career perspective. But then you would feel the constant nudge to grow. The planets around continue to inspire you in your path.
Sagittarius Health Horoscope 2023
The year 2023 predicts with moderate health conditions for those born under Sagittarius Sun sign. With your Ascendant house set to get the aspects of the Moon's node, there might be troubles with your health. Unwanted medical expenditure would come all of a sudden bothering you. Worries and anxieties with regard to personal life and stress and strain from career would have a major impact on your general health and well being for the year.
Sagittarius Finance Horoscope 2023
As the year 2023 begins, Sagittarians would be good in their financial standing. Jupiter in the 5th house ensures that some luck and fortune shall come for you. However its transit to the 6th house in May 2023, might cause some losses and unwanted expenditure. Unexpected medical expenses for the family might erode your savings. Hence bank on your resources when you garner some.
Sagittarius Education Horoscope 2023
This year would be good for Sagittarian students, particularly the start of the year. The Moon's Node stands to hinder the prospects of students in their pursuits though. Natives who aspire to get into good institutions for higher studies would be able achieve their dreams now. Saturn transiting your 3rd house of Aquarius would dispel all enemies or competitors coming in your way of success.
Sagittarius Family Horoscope 2023
This year would be favorable for the family life and welfare of Sagittarius natives. The effect of Jupiter would bring about a good atmosphere for your family life to prevail. You would get the good support of parents, siblings, partner and children if any all this year. You would be very grateful to have them in your life. Auspicious events at home would keep you busy on your toes. The transit of Saturn in March to your 4th house of family would assure domestic welfare and happiness. Peace and harmony would prevail and you would stand to get the guidance of elders in the family. Natives, however ought to be cautious of health issues of family members.
Sagittarius Travel Horoscope 2023
Sagittarians would find the year good enough for their travel wishes. Saturn transiting the 3rd house ensures that there are multiple short journeys through the year. Foreign travels are also on the cards, thanks to the aspect of Jupiter on the 12th house of foreign visits. After the transit of Saturn to the 4th house of Pisces in March, Sages are likely to visit their native land. You are predicted to go on long family trips owing to pleasurable means. Some of you folks might be able to even go on pilgrimages as you have been aspiring for this for quite a long time.
Sagittarius Buy/Sell Horoscope 2023
This would be a favourable year for buying as far as Sagittarius people are concerned. Buying of a house, landed property or vehicles on the cards for the aspiring ones. If you invest in property this year, it would be fruitful. However do not be hasty, decide carefully, read the fine print before venturing into buying. The second and third quarter of the year are in particular favourable for buying. Year 2023 is not quite a good time to resort to selling of your property.
Sagittarius Women Horoscope 2023
The year ahead would be a good time for Sagittarius women folk. As Jupiter would be aspecting your 10th house of Virgo, you would excel in your career field. This would be a good time for investments as well. If you are anticipating a baby, this would be an ideal time for conception of a child. In the second half of the year, Sagittarius women are likely to go on long distant foreign trips. Relocation owing to studies or career on the cards for some Sage women around the year end.
Sagittarius Men Horoscope 2023
Quite a favourable year lies ahead for Sagittarius men when you stand to improve your standing in the society. You would be able to excel both in personal and professional life thanks to the influence of Jupiter. If you put in hard work and commitment there would be no end to your professional dreams for the period. Natives are advised take good care of their general health as you are likely to face some issues. Do not resort to any speculative deals for the year, you would end up in losses. Your spiritual pursuits would be greatly favored this year, and pilgrimages are also most probable.
Sagittarius Spiritual Horoscope 2023
2023 is going to be a very auspicious year for your spiritual deeds. As the year begins, you would be able to perform certain worships and ceremonies with regard to the betterment of your family. The transit of Jupiter and Saturn after the first quarter would increase your devotion to God. There would be opportunities to further your spiritual wisdom these days. Offer your might to the poor, needy and deserving ones. Do support the educational and career pursuits of the ones who cannot finance the same.
Advice For Sagittarius in 2023
A very favourable year when all doors seem to open easily, hence do not be lethargic, go on and explore all avenues. By all means ensure that there is peace and stability in your personal and professional life. Do not enter into any risky ventures this year, as you might end up in a pile of losses. Being blessed, get into charity and social works that would give you mental satisfaction. Trust in your intuition, believe God and enjoy the company of good people in life, the year is going to be simply superb.
To watch our videos on all Zodiac Signs:  

---
Frequently Asked Question
1. What are the effects of Jupiter on Sagittarius in 2023?
Till May 2023, Jupiter would bless the Sages with luck and fortune, then it transits to their 6th house affecting their finances and health adversely.
2. Will the domestic life be peaceful for Sagittarius this year?
No, domestic welfare and happiness would be affected as Saturn transits the 4th house.
3. Is 2023 a good year for Sagittarius?
Yes, this would be a favourable year for those born with their Sun in the sign of Sagittarius.
4. Which Sagittarians stand to get affected this period?
Sagittarius business people might feel the hear through the year 2023.
5. What would be a simple piece of advise for the Sages for the year ahead?
The Sagittarians are asked not to be lazy and lethargic and instead to go ahead with their adventurous pursuits.
6. Who would fare well in 2023, Sagittarius men or Sagittarius women?
Both the Sagittarians are predicted with goodness in their lives for 2023.
---
Astrological services