Uranus traverses through your 8th house of Aquarius all this year. Neptune would be travelling your 9th house of Pisces and Pluto stays in Capricorn till May/June and then shifts to your 8th house of Aquarius. These planetary positions through 2023 would intervene with your life in general all this year.
The year 2023 would start on a sluggish note for Cancer people. However as the year progresses things shall get back on track. This year, natives would be able to handle crisis and challenges in life and bring their life under total control.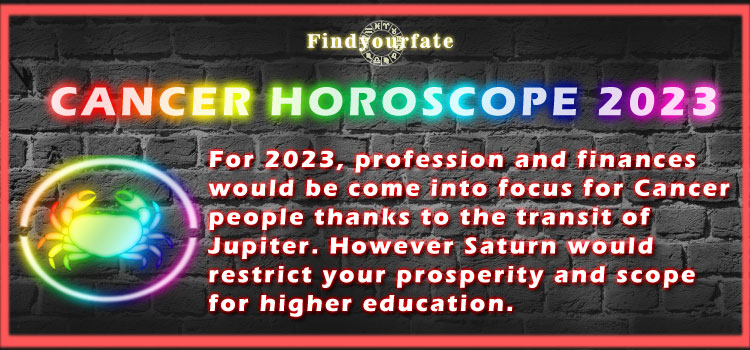 • In 2023, Saturn's transit through the 8th house would bring about some difficulties for Cancer folks.
• There would be myriad hindrances en-route, you would be able to overcome these by your sheer diligence and hard work.
• There would be a steady increase in income flow as the year progresses.
• Do think twice before investing in real estate or resorting to speculative deals for the year.
• The start of the year might pose some troubles for the Cancers.
• You ought to come out of your shell to tread the path of prosperity and success this year.
• This would be a good time to get rid of some of your die-hard habits that are restricting your personal and professional growth.
• Overall the year ahead promises some of the best development opportunities for Cancer folks.
• Stay way from hasty and impatient decisions for now as it would drain your energy levels.
• Also this is a period when natives are advised to resort to their own personal needs rather than thinking about others.
Cancer Love And Marriage Horoscope 2023
This year, the transit of Venus and Mars, the planets ruling love and marriage make sure that love lavishes around you. Jupiter and Saturn also ensure that you are greatly associated with your partner or spouse in a more gentle manner. Commitment like a marriage is on the horizon for those who are looking to get married. Through the year, you would find an assuring balance and comfort in your love or marriage. Your emotions and feelings would be soothed by partner. With all might make sure that family ties are intact when troubles arise during the end of the year. You would be at your best in terms of love for this period, Cancer.
Cancer Career Horoscope 2023
There would be mixed impacts on the professional life of Cancer natives during 2023. In order to gain success or go up in your career field, you need to put in more effort, there is not much luck in store for you these days. Saturn or Shani transiting through your 8th house might bring around delays and hindrances of sorts for your professional aspirations. Do stick to your routine and do not make enemies. You would get the goodwill of authorities or higher-ups in work place these days. Those into business would see good returns this year.
Cancer Health Horoscope 2023
Cancer natives would command good health this year, as Saturn transits your 9th house of Pisces in March. However during the first quarter as Saturn transits your 8th house of Aquarius, there would be health issues for sorts for the natives. Do a careful monitoring of your health for the period. Be cautious of what you eat and stay away from infectious diseases doing their rounds around. Jupiter aspecting the 9th house makes sure that there are no major deterioration of your health condition. Natives however stand to have health issues due to stress and strain.
Cancer Finance Horoscope 2023
This year would be moderately yielding for the economic aspect. There would be inflow of wealth but due to over expenditure, savings are not ensured. Avoid wasteful expenditure of money. In May, when Jupiter transits to your 11th house, there would be gains around. And the aspect of Jupiter on your 2nd and 4th houses shall bless you with much landed property and luxury vehicles. However there would be expenditure owing to auspicious events at home. This year would be a great time to make some high value investments if that had been on your mind for quite sometime now. Property disputes would end favourable for you this year.
Cancer Education Horoscope 2023
Cancer students need to put in continual effort to get success in their studies this year. Saturn transiting the 8th house of Aquarius as the year starts would cause hindrances for your studies and cause troubles from competitors. However after April, you would get the goodwill of your teachers and higher-ups in education. The transit of Jupiter might affect the efficiency of your studies and cause mental worries and anxieties for quite sometime. The combined aspect of Jupiter and Saturn on your 5th house promises good tidings for Cancer students all this year.
Cancer Family Horoscope 2023
This year you would be able to realize your familial dreams. Saturn and Jupiter together would ensure that you give due importance to family and its members this year. Some of your dreams with respect to home and family would now see the light of day. Luck and fortune would befall your household. You would have just the right amount of energy and spirits to take your domestic life to a whole new level of experience.
Cancer Travel Horoscope 2023
As the year 2023 starts, Jupiter would be aspecting your third house of Virgo enabling many short gainful journeys. Through the year, many long haul travels are also on the cards thanks to the influence of Jupiter around. You stand to gain knowledge and financial resources due to their journeys. New connections would be forged en-route which would impact the long term prospects of your life. Some Cancer natives likely to travel owing to job transfer, relocation and the like. Natives are asked to be cautious during travel as there is the possibility of accidents in travel. You might also lose your valuables or money during your trips, hence beware of frauds around.
Cancer Buy/Sell Horoscope 2023
Year 2023 would be a very favourable period for buying and selling of property for Cancer people. If you want to sell your property, the first half of the year would favour the same. For buying of property also things shall move in your favour this year, with loan processing works moving on smoothly. But then natives are advised to be cautious of investing high value finances in landed property and real estate deals.
Cancer Women Horoscope 2023
Cancer women who are into a committed love relationship would be able to get married during 2023. Women who intend to conceive a child are also most likely to beget a child of their longing for now. Your finances would be very good all this year. Some Cancer girls are likely to go on long distant vacations, visit their native place, etc. Generally a happy and troubles-free period for Cancer women.
Cancer Men Horoscope 2023
Cancer Men are in for many changes through the year ahead. They would be able to come out of their protective shell and progress in life these days. They are asked to commit for them selves rather than resorting to the needs and desires of those around. The single men would be able to find an ideal loving partner for life through professional connections. Romance, and love would be at its best for you this year. Prosperity and financial stability are promised for the Cancer men in 2023. Through the year you would be able to nurture your special skills and climb up the corporate ladder. Your physical and mental health would also be quite good all this year.
Cancer Spiritual Horoscope 2023
As the year starts you would be able to pursue some spiritual exercises aided by Jupiter aspeting your 9th house. You would be more dedicated in your religious works this year than ever before. During the second half of the year, Cancer natives would be more inclined towards the occult sciences. Do donate food and clothes for the needy whenever possible. Natives are also advised to worship their favourite God through the year with fervour.
Advice For Cancer in 2023
Natives are advised to pursue their passion wholeheartedly this year. Do not be bogged down by external forces that mar your forward movement in life. Major changes are just round the corner, embrace them with a whole heart. Trust your loved ones, do not keep judging people, you have their back at all times. Put all your energy and might towards your profession, come out of your comfort zone. Not a time to despair, you have some good acquaintances coming your way. Enjoy the good things that life has to offer you and do not sulk.
To watch our videos on all Zodiac Signs:

---
Frequently Asked Question
1. How will the year 2023 be for Cancer people?
Saturn's transit throught the 8th house would bring about some difficulties in their lives.
2. Will Cancers be able to beget any children this year?
As the 5th house is aspected by both Jupiter and Saturn, Cancers would be blessed with offsprings.
3. In 2023, what are the financial prospects of Cancer?
This year would be moderately yielding on the economic front.
4. What is the health forecast for Cancers in 2023?
Natives would have nervous and digestive issues, but there would be no major impacts on life.
5. Can Cancer people buy or sell property this year?
The first half of the year favors selling of landed property.
6. Any spiritual developments in 2023 for Cancer folks?
They would be more dedicated in religious works this year than ever before.
---
Astrological services