Pisces

11th house

Aries

12th house

Rahu

Taurus

Ascendant

Gemini

2nd house

Mars

Aquarius

10th house

Cancer

3rd house

Mercury

Moon

Saturn

Venus

Sun

Capricorn

9th house

Leo

4th house

Sagittarius

8th house

Scorpio

7th house

Libra

6th house

Jupiter

Ketu

Virgo

5th house
The main features of the Indian natal chart are:
Rahu is placed in the lagna or Ascendant of the horoscope.
Mars is placed in the 2nd house.
5 planets are conjunct together in the 3rd house (Mercury, Venus, Sun, Saturn and Moon).
Jupiter is placed in the 6th house.
Ketu is also placed in the 6th house.
The birth star of the Indian nation is Pushya nakshatra.
The first dasa of India after independence was that of Saturn. Saturn is posited in the 3rd house.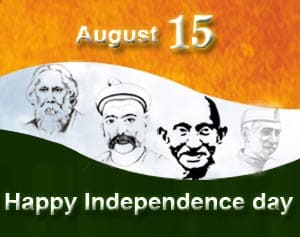 The placement of 4th lord Sun in the 3rd house along with Saturn which rules separation signifies the separation of India and Pakistan at the time of birth.
Mars being weak in the house of Gemini and placed in the 8th house from Scorpio is the cause for such a nation to have been under bondage or foreign rule.
Sun posited in the 12th house from its own house indicates losses which contributed to the loss of lives during the freedom struggle.
According to astrologers, India's chart is a unique example of Kala-Sarpa yoga. This means that all the planets in the natal chart lie between Rahu and Ketu. Both Rahu and Ketu also known as the north Node and South Node are powerful in the natal chart of India. North node represents materialism while south node points to a spiritual inclination.
Mars in the house of Gemini and aspected by Jupiter indicates a sound financial future for the nation though the present story seems to contradict the same. The presence of five benefic planets in the third house signifies better power and authority for the nation as a whole.
Astrologers chose midnight of August 15th, 1947 for freedom due to the following:
Moon would have entered Pushya Nakshtra which is very favorable.
Around midnight meant Abhijeet Muhurta, which is a favorable timing for starting any important work.
The Ascendant would be Vrishabha, a fixed sign indicating a strong foundation for the nation born.
Related Links
---