Sagittarius Common Traits
Your Strengths:
Sagittarians are generous by nature. You are honest, wise and love to talk about intellectually stimulating subjects like religion and philosophy of life. You love traveling, adventure and smart company. You are constantly trying to reach greater heights and search for new horizons.
Your Weaknesses:
Gamblers by nature, you tend to bet on most things. You exaggerate a great deal. You hate restrictions on your personal freedom and are terrified of any type of responsibility. You dislike commitments and are sometimes tempted to cheat on your partners.
The Birth of Jesus
The Book of Matthew from the Bible records the significance of Jesus' birth. It refers to the astrologers, also known as wise men who came to worship Jesus when he was born. They had been studying the heavens and "came to Jerusalem saying, 'Where is he who has been born King of the Jews? For we have seen his star in the East and have come to worship him'" (Matthew 2:1-2). Astrology played an important role in announcing Jesus' birth and proving his divinity. The three wise men were guided by a special star. They understood this star as a sign which announced the birth of a new "king of the Jews.The three wise men were very probably priests who were followers of astrology from the Persian region.
This Newsletter Sponsor

Ask- it shall be answered!
Did you know that...
The twelve disciples of Christ are identified with the twelve signs of the zodiac. We still find traces of this in Leonardo da Vinci's painting of "The Last Supper," which was produced between 1495 and 1498. Here the twelve disciples are represented with characteristic markings and gestures of the twelve zodiac signs.
The Birth chart of Jesus Christ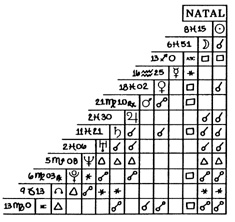 Contemporary astrologers have worked out the date and time of Jesus' birth by combining historical, Biblical and astro–logical information. They have concluded that Jesus was born in Bethlehem, Judea on March 1, 7 BC (Julian) at 1:30 AM. This birth chart has a six planet stellium in Pisces with five oppositions to Pluto and five trines to Neptune. This makes Jesus a super Pisces which correlates with the fact that for the first 300 years of the Christian era, the symbol of Christianity was not a cross, but a fish, the symbol of Pisces. A stellium in Pisces in the third house is an indication of extreme focus, genius and brilliancy in the area of spiritual matters with strong emphasis on compassion and communication. The oppositions to Pluto indicate the ability to transform others with compulsion which may be why he was crucified. The trines to Neptune indicate great kindness, highly developed psychic ability and miraculous healing powers. Sagittarius rising signifies a love of freedom and spiritual truth, and the ability to teach.
The Wise Men in Astrology

The wise men are represented by the three stars at the waistline of the constellation Orion. The wise men came from the east because they saw his star in the east. The king Herod sent the wise men to Bethlehem to find out when the star appears. Astronomically, Orion disappears below the horizon for about twelve hours. This could be seen as the time the wise men spent with King Herod. The wise men see the star of Bethlehem when Orion, with its three belt stars, hangs over Sirius. This is how the star 'rests over the place where the child was'. The wise men did not return to Herod because it is impossible for stars to reverse direction. In those days, astrologers were believed to be wise and learned men.
SKY - December 2006
| | |
| --- | --- |
| << December 4 – Full Moon >> | << December 20 – New Moon >> |
| | | | | |
| --- | --- | --- | --- | --- |
| Event | Date | Degree& Sign | Eastern time | Pacific Time |
| Mars enters Sagittarius | December 5 | 00:00 Sagittarius | 11:58 pm | 8:58 pm |
| Saturn Retrograde | December 5 | 25:04 Leo | 11:06 pm | 8:06 pm |
| Mercury enters Sagittarius | December 8 | 00:00 Sagittarius | 12:51 pm | 9:51 pm |
| Venus enters Capricorn | December11 | 00:00 Capricorn | 12:33 am | 9:33 pm |
| Mars conjunct Jupiter | December 11 | Mars Sagittarius; Jupiter Sag | 11:11 am | 8:11 am |
| Winter Solstice | December 21 | 00:00 Capricorn | 7:22 pm | 4:22 pm |
| Mars square Uranus | December 21 | Mars Sagittarius; Uranus Pisces | 7:17 pm | 4:17 pm |
| Mercury enters Capricorn | December 27 | 00:00 Capricorn | 3:54 pm | 12:54 pm |
Virgo(Virgin) Mary

The zodiac symbol Virgo represents Virgin Mary, the mother of Jesus Christ. The name Mary means "water" as water is the mother element of birth.
In the beginning God divided the waters to make heaven and earth; Moses' Red Sea crossing symbolized the birth of the new nation of Israel. On December 25 at the first hour, Virgo ascends above the horizon .
It is significant that Virgo be ascending. Ascension is looked upon as a fortuitous direction.
MONTHLY FORECAST FOR COUNTRIES
December - 2006
India- general affairs affected, conflicts provoked, growth restrained, volatile markets, air mishaps averted, diplomatic activities enhance peace process.

Pakistan- discontent and agitation, leadership takes provocative stand, efforts for peace yields some results.

North America- sudden vital developments, financial markets hindered, agriculture suffers.

South America- financial crunch felt by nations, regional ties focussed, financial turbulence at large.

Russia- volatile financial regime, mending fences with neighbors, leadership provoked, underworld activities in politics exposed.

West Asia- disorder and strife in the region, administration meets with difficulty, regional accord promoted.

China- severe national tragedy looms large, economic performance remains good, external trade gets a shot in the arm.

Japan- major growth and achievement, healthy investments promoted, diplomatic discord likely.
Career Astrology find out more ....
Personal Forecast - ( Dec 2006 )
Aries
- addition to the family likely, romance on the cards, excess expenditure bothers you, do not start new ventures, professional prospects brighten up, avoid quarrels with friend health needs attention, avoid travel unless necessary.
Taurus
- mother may have problems, social life remains hectic, family happiness likely, care needed in driving, birth of a child in the family, avoid unwanted expenses, postpone travel plans, functional health needs attention, use tact in all dealings.
Gemini
- personal safety needs care, long felt desires materialize, material gains likely, avoid speculation, work atmosphere congenial, month bad for partner/spouse.
Cancer
- love affairs meet with setbacks, creativity increases, death of a close relative, personal safety needs care, acquisition of vehicle probable, simple losses, successful trip likely, social position gets shaky, eyes needs care, take care of partner's health.
Leo
- marital life meets with impediments, do not neglect simple ailments, guard against accidents, normal life disturbed, change of residence likely, finances fail, speculation cannot help, disputes over property arise, gains in partnership deals, double check travel plans.
Virgo
- good happenings at home, personal ambitions hindered, short journey has problems, avoid risky deals, small gains likely, enemies fade away, postpone new ventures, month gives solace.
Libra
- health improves, spiritual inclinations likely, finances flourish, acquisition of property on the cards, do not mismanage resources, conjugal relations improve.
Scorpio
- bereavement in the family, accents likely, avoid parties, losses glare at you, financial worries, partnership deals pose problems, travels bring loss, do not be overconfident, friend might betray you.
Sagittarius
- pilgrimages on the anvil, shifting of residence likely, death of an elder in the family, tensions with partner, travel becomes profitable, income decreases, speculation to be avoided, foreign travel takes off, calamity seems lurking around.
Capricorn
- financial gains, ailments abate, increase profits, speculation can help, competition in business, new property acquired, new position in career, partnerships in peril, handle legacies with care, handiwork can give benefits.
Aquarius
- gainless travels, pilgrimages, fresh investments, close friend passes away, health of spouse needs care, conjugal happiness prevails, expenditure goes out of control, irritation in work place, marital discords probable.
Pisces
- acquisition of house likely, double check travel plans, problematic illness erupts, travel gets gainful, increase of wealth, financial crunch, professional rivals vanish, happiness prevails at home.
Your lucky stone (Dec -Sagittarius)
Turquoise is a vibrant light blue stone often seen in southwestern jewelry. It is reasonably priced and quite lovely.The name turquoise may have come from the word "Turquie", French for Turkey, because of the early belief that the mineral came from that country . Turquoise supposedly helps one to start new projects. Turquoise has been thought to warn the wearer of danger or illness by changing color. It is also believed to bring happiness and good fortune to all. Majority of the world's finest-quality turquoise comes from the United States(Arizona , California and New Mexico), the largest producer of turquoise.
Properties of Turquoise
| | |
| --- | --- |
| Color | sky blue to green |
| Hardness | 6 |
| Chemistry | hydrated phosphate of copper and aluminum |
The Manger in Astrology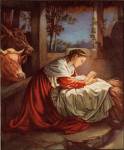 The Book of Luke in the Bible says that Jesus was born in a manger. The manger is more specific in pointing to the house of Capricorn. There are reasons for the choice of manger.
The zodiac constellation preceding Capricorn is Sagittarius, half man half horse. As the sun descends, the horse is seen to be riding down towards its stable, or manger, into Capricorn.
It is a dark time of the year and mangers are dark places.
Astrology in Christianity
Thomas Aquinas (1225-1274) explained the relationship of Christianity and astrology. According to him, the heavenly bodies affect the physical condition of humans and the sensual inclinations. Every worldly bond is determined by the heavenly bodies. However, every human has also the possibility to avoid the influences of the celestial bodies. The more he overcomes sensual inclinations, makes use of his reason, and devotes himself to God, the better is he able to master the passions and with them the influence of the stars.
Know this...
At the time of the birth of David, the forefather of Jesus Christ, there was a double grand trine in the heavens. A trine is symbolized by an equilateral triangle and indicates that at the time of the birth, three planets formed a triangle equidistant from each other. This shows great talents, and gifts, and an ability to overcome a variety of problems, whatever problems may rise.
How Christmas came into being...
Key times for celebration in ancient Roman period were the cardinal points of the seasons, the solstices in June and December and the equinoxes in March and October. These periods measured seasons, the sowing and reaping of crops. The solstice at Christmas time marks the entry of the Sun into the sign of Capricorn whose Lord is Saturn. On this day the Sun appears to halt over the tropic of Capricorn for three days and then begins its journey North.
For the ancient Romans, Saturnalia was joyous celebration of the Saturn God. At some point in time, the holy day of Saturnalia had also been tied into being a celebration of the rebirth of the Sun - and, as such, Saturnalia was held each year about the time of the "winter solstice." In 4th Century AD, the Roman emperor at the time "officially" reset Saturnalia to be celebrated on December the 25th Shortly thereafter, the Church Fathers likewise set the official date for celebrating the birth of Jesus as being December the 25th.
Positions of Planets in birth chart of Jesus
| | |
| --- | --- |
| Sun 7°17' Pisces | Chiron 5°11' Capricorn |
| Moon 24°57' Aquarius | Ceres 20°19' Sagittarius |
| Mercury 16°25' Aquarius | Pallas 29°19' Gemini |
| Venus 16°44' Pisces | Juno 28°01' Sagittarius |
| Mars 21°40' Virgo | Vesta 0°50' Sagittarius |
| Jupiter 2°21' Pisces | Node 10°52' Taurus |
| Saturn 11°19' Pisces | Lilith 2°56' Aries |
| Uranus 2°09' Pisces | Fortune 24°35' Capricorn |
| Neptune 5°03' Scorpio | AS 12°16' Capricorn |
| Pluto 8°36' Virgo | MC 0°49' Scorpio |
Auspicious Days for December 2006
| | | | |
| --- | --- | --- | --- |
| Date | Day | AM | PM |
| 01-12-06 | Friday | 06.00 to 10.30 | 4.30 to 7.00 |
| 06-12-06 | Wednesday | 09.00 to 10.30 | 4.00 to 7.00 |
| 08-12-06 | Friday | 06.30 to 10.30 | 4.30 to 7.00 |
| 14-12-06 | Thursday | 07.30 to 10.30 | 4.00 to 7.00 |
| 15-12-06 | Friday | 06.30 to 10.30 | 4.30 to 7.00 |
| 25-12-06 | Monday | 09.00 to 10.30 | 4.00 to 7.00 |
| 27-12-06 | Wednesday | 06.00 to 07.30 | 4.00 to 7.00 |
| 29-12-06 | Friday | 06.30 to 10.30 | 4.30 to 7.00 |
Jesus was born on March 1st in the year 7 BC, at 1:21 a.m. in Bethlehem. The birth chart for this moment in time contains a cluster of six planets in Pisces: the Sun, Moon, Venus, Jupiter, Saturn, and Uranus. With all this Pisces energy, Jesus was highly spiritual, compassionate, and willing to sacrifice himself for others.
Check your free daily and weekly horoscope
Online Daily & Weekly horoscopes
Note: This newsletter is sent to you based upon your request to findyourfate.com. Findyourfate.com or its owners will not be responsible or liable for any decision taken by you or any consequences which might arise after your reading of this letter. If you no longer wish to receive this newsletter please send an email to
[email protected]