Overview:
Magnesite is composed of magnesium, carbon, and oxygen (MgCO3) and was named after its chemical composition. Magnesite is commonly found in white or gray and sometimes tinted yellow or brown. Magnesite is commonly found associated with Calcite, Dolomite, Aragonite, Strontianite and Serpentine.
It is commonly collected as a rare mineral and sometimes faceted into a gemstone.
Usage:
Magnesite maintains balance through life and along one's chosen path. Promotes grounding and
Physical Properties:
Magnesite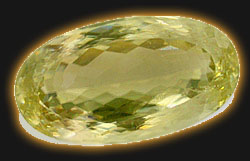 Color
white, gray, yellow, brown
ballast into the Earth. Promotes positive attitude, relaxation, calmness. It helps with migraines, headaches, stomach and intestinal cramps .
Legend:
First discovered in 1808 in Greece, occurrence of Magnesite has been reported in several locations worldwide.
Occurrence:
Austria; Bahia, Brazil, Korea, China, California, USA and European localities.