A Virgo woman and an Aquarius man share a compatible life. This is a combination that lives by "love at first sight". This would be one of the magical pairs in the zodiac.
The duo are great in dating, marrying and raising a family. They just seem loaded with much positive energy that takes them together. But then the initial attraction might wither out with time if the duo do not keep up with their commitment. His intelligence and logic regarding life simply sweeps her off her feet.
His universal appeal would also convince her but then she should be able to take it in the right spirit. Else the relationship would be heading for trouble. If each lives his or her own way and gives space for the other then there would be bliss here.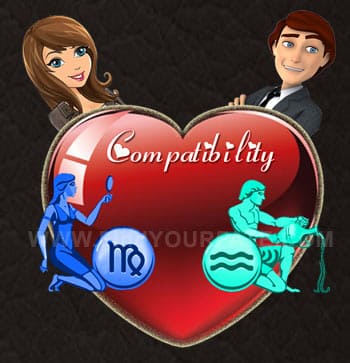 Compatibility for Romance
The Virgo female and the Aquarius male share a compatible romantic affair full of passion and zeal. The Virgo girl has the knacks to bring out the romantic side of the Aquarius guy to the fore. Also she would be more than willing to get his passions out. With time the relationship gets loaded with romance and passion. Though the Aquarius guy is not one to behold in this area, the Virgo female makes sure that the relationship is not devoid of romance. Once the Aquarius man is kindled then there is no turning back of the fire.
Compatibility for Friendship
A Virgo girl and an Aquarius guy make great true and loyal friends. They have great compatibility as friends for life. Both have high standards set up in life that it is unlikely for any other signs to get into this private area of the duo. Quality would be the forte of this comradeship.
Compatibility for Marriage
This is one of the best combinations for a compatible marriage and is said to be a marriage made in heaven. Together the Virgo female and the Aquarius male make a great team for family life. They share similar values and choices in life that it would be a very smooth affair. With time they become close friends for life confiding in the other. They make home a heaven for children and relatives to head onto in times of need. The duo are keen to work towards a long standing relationship.
Compatibility for Sex
The Virgo female and the Aquarius male have better compatibility when they enjoy sex. It would be a way by which the duo relate to each other. No physical and mental demands are involved here. Mutual satisfaction and pleasure would be the key.
The End game
A Virgo woman and an Aquarius man stay together for life but if circumstances demand a separation then there would be mutual agreement for the split. There would be not much hard feelings and they just put back their past and sprint forward. Both like to take life as it comes its way without any regrets.
www.findyourfate.com Rating 10/10
Gemini Cancer Leo Libra Scorpio Sagittarius Capricorn Aquarius Pisces Aries Taurus