The Cancer man is full of passion and concern that he can woo his Gemini girl easily. But then he is more bent on commitments while is she known to be a flirt.
The Cancer man yearns for love and care while this is out of range for the Gemini female. Only adjustments can keep the relationship going in a positive sense.
But then much romance would be involved here. The Gemini woman flaunts her style while the Cancer man is adept in handling household chores and familial ties. The Gemini girl brings variety and entertainment stuff for her Cancer partner.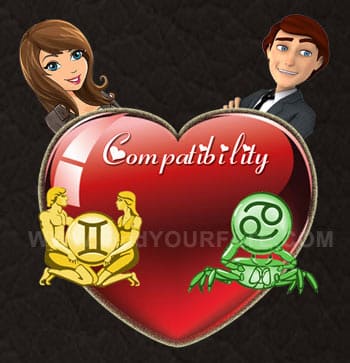 Famous Gemini-Cancer Couple
• Nicole Kidman and Tom Cruise
• Wallace Simpson and the Duke of Windsor
• Jessica Tandy and Hume Cronyn
Compatibility for Romance
This relationship includes much romance. Gemini is known to keep the fire of romance alive and Cancer would be a willing partner to oblige to her whims and fancies. There would be something more than passion in this combination. Emotions have a steady flow in both the directions.
Compatibility for Friendship
The Gemini girl and the Cancer guy make good friends in life. They have common interests and routine affairs to share. Communication is the key here and the social media would be a great thing that binds the duo in this comradeship. There would be much fun here and boredom is never to be seen.
Compatibility for Marriage
The Gemini female and the Cancer male are compatible enough for marriage. This combination works without any psychological or emotional issues involved. Both are more bent on having a happy home with good children and lots or near and dear ones to live with. Cancer is very protective and caring about marriage that the relationship would stand the test of time. Though the Gemini is a flirt and wayward, the Cancer guy gets him back home at the end of the day.
Compatibility for Sex
There would be greater compatibility when it comes to sex between a Gemini woman and a Cancer man. There would be much delight, familiarity and sensuous acts here. As each gets to know more about the other this would be an act to cherish for both together.
The End game
When it is all over in the relationship between the Gemini woman and the Cancer man, it would be a great disaster waiting to happen. The Cancer guy has to handle all the responsibilities while the Gemini girl does not care much about the future of the home and the security involved in a marriage. The Cancer guy is always open for reconciliation but the Gemini girl just walks out of the relationship easily in a jiffy.
www.findyourfate.com Rating 8/10
Cancer Leo Virgo Libra Scorpio Sagittarius Capricorn Aquarius Pisces Aries Taurus