Though the personalities of both are completely different, there would be better warmth here because the aggressive nature of the Aries man would draw the Scorpio female.
The mysterious ways and deep passion of the Scorpio female would be liked by the Aries man. If both agree to go their path without trampling on each other's works then life would be bliss here.
Scorpio woman would act as a good mirror of the Aries man in life. Each acts as a restraint for the other and hence the relationship would be kept under tethers without straying a bit.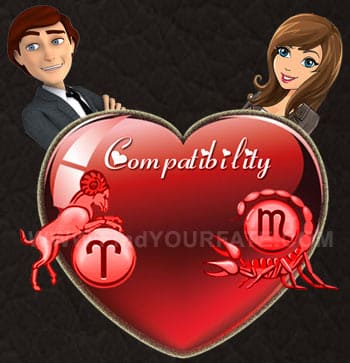 Famous Aries-Scorpio Couples
• Russell Crowe and Meg Ryan,

• Dennis Quaid and Meg Ryan,

• Robert Downey, Jr. and Susan Levin


Compatibility for Romance
This relationship has one of the highest levels of compatibility than any other combination as far as romance and passion are concerned. There would be lots of life, energy and better chemistry between the duo. The energy levels get doubled here.
Compatibility for Friendship
There would be better compatibility for friendship as well here. The Aries man and the Scorpio woman together enjoy all sorts of extreme adventures in life. Much action, trust and mutual admiration of the other can be seen here.
Compatibility for Marriage
There is tremendous potential in this couple for marriage compatibility. Both strive together to keep the marriage lines alive and hence this relationship would stand the test of time though occasional hitches cannot be ruled out here.
Compatibility for Sex
Sex is something that improves the relationship between an Aries man and a Scorpio woman. They take it more than a sportive event. Each competes with the other to satisfy the others' sensual needs. They get aroused easily at the sight of the other.
The End game
There would be occasional rifts and then the make-ups. Aries starts new things while the Scorpio would be ready to end them, resulting in misunderstandings. Though each might find the going tough, still they get going. Make sure that the duo do not pass on their stormy emotions to their near and dear ones around.
www.findyourfate.com Rating 10/10
Gemini Cancer Leo Virgo Scorpio Sagittarius Capricorn Aquarius Pisces Aries Taurus