The Chinese New year falls on February 10, 2013. Year 2013 is a water snake year.
The Chinese New Year marks the start of the Spring festival and ends with the Lantern festival. The snake is the sixth sign in the Chinese zodiac.
Snake is a Yin (female) animal. But Snake contains Male Fire, Male Metal and Male Earth.
Snake personalities are soft externally but are tough on the inner side.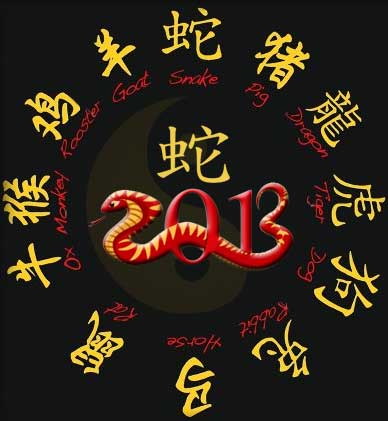 Snake Traits Snake Celebrities
People born in the year of the snake usually become great philosophers, theologians, politicians, or financiers. The snake is the most enigmatic of the twelve Chinese zodiac animals. Snake persons are elegant, they enjoy reading, listen to great music and love food. They are born to enjoy the good things in life. A person born in the year of the snake is a passionate lover. He always has an eye on the opposite sex. Snake people get stressed out easily. Hence they need a calm environment to survive. They also dislike being interrupted.
The following were the previous snake years :
1905
1917
1929
1941
1953
1965
1977
1989
2001
The next snake year would be in year 2025.
Some snake characteristics :
Lucky color : Red
Gemstone: Topaz, Jasper, Bloodstone
Hobby: Astrology, painting, touring, photography
Best Friends: Ox and Rooster
Worst Enemy: Pigs
Year 2014 would be the year of Horse
(xin nián kuái lé) Happy New Year