Year 2018 is the Chinese Year of the Dog. It starts on February 16th, 2018 and ends on February 4th, 2019.
Those born in the years of 1934, 1946, 1958, 1970, 1982, 1994, 2006, 2018 and 2030 belong to the Chinese sign of Dog.
Dog People Nature
People born in the year of Dog do not inherit much wealth and fortune. They earn wealth by their hard work only.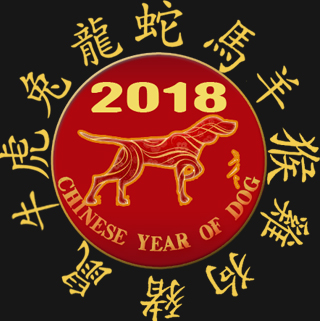 Luck and fortune comes for them only in their old age.
Dog people are faithful, broad-minded, well-disciplined and stick to customs and traditions. They are grateful and courageous in life.
They have well-defined goals in life and do not compromise on things. They rarely give up on their ambitions and ideals. They also do not interfere in the life and matters of others.
Those born in the year of the Dog have artistic inclinations and hence they are not suited for science and commerce fields of work. They have a great physic and have a fighting spirit.
However Dog people find it difficult to express their love and romance. But then they are faithful to their partners till the end. Co-operative deals do not work well for them and they better avoid financial deals with friends and near ones.
Dog people are honest to the core, loyal, and are duty-bound. They are hard-working and steady in their performance Dog people make good leaders, doctors, scientists or priests.
Dog- Negative Traits
Dog people though they have an interest for others, they do not open up easily and are found to be highly secretive. Some Dog natives are overly sensitive to the needs of others. Dog people are advised to focus their energies towards their inner self.
Predictions for the Year of the Dog
The year of the Dog is a good time for making major life changes. It might be leaving a troublesome partner, relocation, quitting bad health habits and the like. A good time when solitude pays considerably.
Dog years are not a good time for financial indulgences. In this year, success in work is possible based on how well you communicate with your authorities and peers in the work place. A good time when family and its matter are emphasized the most. The single ones find the year of the Dog a favourable time to get married.
The year of the Dog is also a very sensitive period. Citizens of the world might be forced to rebel against established traditions and customs and demand major changes in their living conditions. Dog years are usually found to violent and quite confronted.
Dog Celebrities
Michael Jackson
Mariah Carey
Winston Churchill
Ellen DeGeneres
Bill Clinton
Andre Agassi
Dog Luck
Lucky Colors :
Black, yellow, brown
Lucky directions :
North, Southwest, West and North East.
Dog Compatibility
Compatible :
Tiger, Rabbit, horse
Not Compatible :
Snake, Sheep
Dog Traits Dog Celebrities Dog
2019 is the Year of Pig
(xin nián kuái lé) Happy Chinese New Year