Career
Tiger people shall command good trends in the professional front for the year 2014. But it does not rule out changes in career. Accept the changes and work towards a positive future. There would be some times of insecurities as well. New opportunities shall come form all quarters in this year. Hence make good use of the same.
Love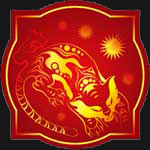 It would be a time for forgiving and forgetting in your relationships, Tiger. This time would pass off just like any other situation and hence stay away from guilt. Keep secrets to yourself and let this not interfere in your relationship issues. You would land up with compatible partners for life in this year. Stay away from lust, infatuations and other bad feelings.
Finance
Your financial side would be very good in this year, all you Tigers out there. There would be good inflow of funds from all quarters. Do not indulge in over-spending, instead spend a good sum on your family and friends. Make a good study and go in for some investments and speculative deals.
Health
In this year of the horse, tiger people are advised to stay away from fatty and fried foodstuffs. Else they would land up with digestive troubles. Are also advised to abstain from smoking and drinking as it would affect their health adversely. Do not let your mental state affect your physical health.