Career
Your career life would be full of challenges and stiff competition throughout the year of 2014. Those aspiring for a change of job or promotion shall get the same in this year. Important decisions related to your career future would be made this year. Work hard towards your ambition this year with renewed vigor and strength.
Love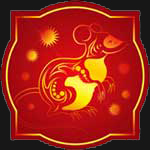 Your love life is also in for deeper trouble during this year of the horse. You need to spend quality time with your loved ones, else there would be trouble in your relationships. Lack of communication is the reason behind the troubled relationships you would go through. Also professional stress would deviate you a lot from personal relationships this year.
Finance
This year of 2014 ( Year of the Horse) would have certain financial troubles in your life. There would be unexplained losses and loans just round the corner. Make sure that you are prepared to tackle the worst conditions in this period. Do turn to your immediate friends or siblings to bail you out.
Health
In the year of 2014, health for Rat natives would be far from satisfactory. You need to take ample rest and curb your eating instincts. A balanced diet would go a long way in promoting your general health. Take time to relax and soothe your inner body and soul.